The Fight Continues For The Disability Community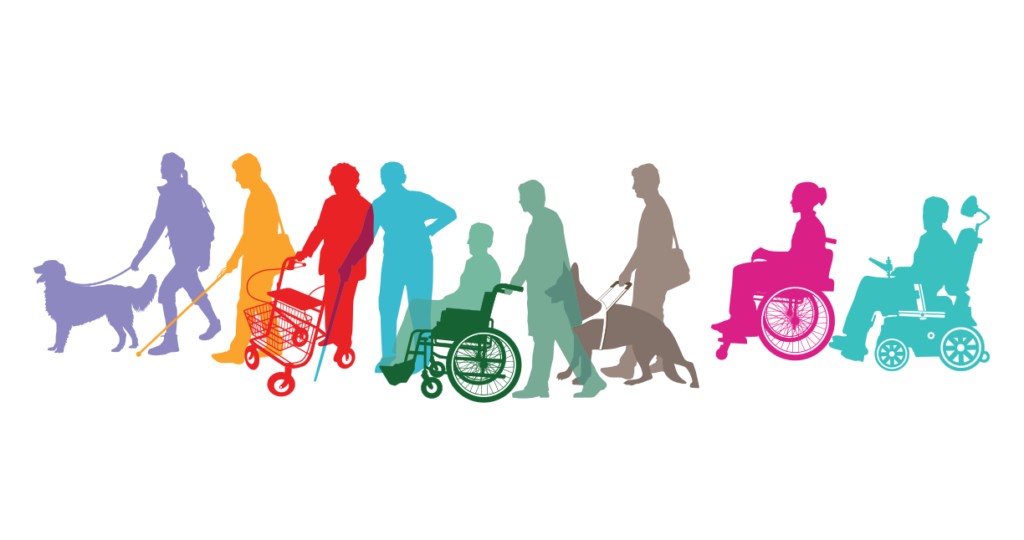 As a Recreation Supervisor within the Department of Leisure, Family, and Recreation, I have been fortunate enough to be a contributor to a program and service line that makes an honest effort at serving families and members within the community. The approach has always been to engage with the community authentically, to meet people where they are, listen, and continually adapt to ensure that our programs are reflective of the wants and needs of the people who participate in them.
If you are a returning reader of the Perspectives tab, or even if this is your first time visiting our page, you should know that central to the mission of these articles is the centering of marginalized communities. Perspectives exists as an outlet to continue the conversations that surround the underrepresented populations within our community, to tell their stories when we can, and to elevate their voices as we should. At times that can feel like a tall order given that the number of marginalized individuals continues to grow at a rate that seemingly outpaces the number of allies, while the competition for support and finances is more fierce than ever.
For the nearly 41 million disabled Americans and their families, the need to be dynamic, resourceful, and vocal has always been a necessity.
No community is a monolith and that is especially true for the disability community. To look through the lens of individuals who require special accommodation is to see people of every ethnicity, faith, economic background and lived experience. Beyond this is the fact that even the term "disability" encompasses such a myriad of chronic conditions, ranging from those that compromise physical or cognitive function as a result of an acute incident such as spinal cord injuries and traumatic brain injuries, to cognitive and developmental disorders caused by certain genetic traits or complications during birth.
My personal connection to the disability community began sometime around 2009 after graduating with a degree in Clinical Exercise Physiology when I went to work at Gaylord Hospital in Wallingford, CT. What I thought would be a short stop-over would turn into four years in outpatient therapies, followed by an additional four years with Hartford's Oak Hill as a programs manager overseeing wellness and recreation programming for clients with diverse diagnosis.
During that time, and even now as part of a team that manages the Town of Manchester's Camp Kennedy, I have personally witnessed what at times can look like an insurmountable number of barriers that prevent individuals and their families from receiving services and participating in programs that promote engagement in their communities and help to enrich quality of life.While my experiences within the community are largely centered around those with physical disabilities, the fight for equitable access to everything from transportation to education is universal across the spectrum of disability and too oftentimes disproportionately affects those with the most severe medical complexities.
Prior to the 1990 signing of the Americans with Disabilities act by President George H.W. Bush and later the signing of the Olmstead Act in 1999, the prospects and future for a person living with disabilities were bleak. Up to the earlier part of the twentieth century, the practice of institutionalization was commonplace, leading to individuals with disabilities and especially those with developmental and cognitive impairment being sequestered away from the rest of society, oftentimes left to live out a life of isolation, subject to neglect and unproven an ineffective medical treatment.
By the 1960s, public policy change had begun the move away from asylums and psychiatric institutions as the advent of skilled nursing facilities and the introduction of Medicare and Medicaid changed the landscape of disability services. Even still, the discrimination against individuals with disabilities by means of isolation and segregation would remain "a serious and pervasive social problem" as noted in congressional statements 42 U.S.C. Section 12101(a)(2) in 1990 ahead of the signing of the ADA later that same year.
So what does navigating the world look like for individuals with disabilities and their support systems in 2022? Unfortunately, the answer for many people is somewhat the same as it did in the mid-1990s. While society in large part has increased its literacy of the disability community some of the same issues that existed more than two decades ago continue to plague families and individuals alike.
For many, accessing affordable skilled care is a barrier that has an effect on much more than the physical health and well-being of the individual in question. Manchester resident Grace Carter is all too familiar with the challenges of navigating the disability resource system. A full-time professional, journalist, board member for Autism Families CT, and a loving mother and primary caregiver for her 19 year old son Cashan, who was diagnosed with Autism Spectrum Disorder at age two, Carter has her hands full.
"It's very hard, you can't just decide to go out for the afternoon on a weekend," Carter said in reference to plans she and her husband Maurice recently canceled as a result of a lack of care services for their son after a family member was unable to provide coverage for the rare outing.
Grace's son Cashan attends the Gengras Center in Hartford, a state-approved private special education school, and while the family notes that the support it receives from both Gengras as well as the Manchester Board of Education has been fundamental to Cashan's success, it's when school is out of session that things get really complicated.
"As his caregiver, the program itself is instrumental in Cashan's continued social and emotional enrichment. I'm always on the lookout to give him the opportunity to be in an environment where he is valued; we aren't looking for babysitters," Grace said.
That mentality is one that is shared by families and caregivers across Connecticut. It's also exactly why people like Grace and Maurice have had to take things into their own hands in order to supplement services for those in their care as opposed to waiting for the availability of necessary services to catch up with demand.
The two Manchester residents recently started the local S.O.A.R (Spectrum Opportunities in Arts and Recreation program) for youth, young adults, and families living with autism, which meets monthly at different locations in an effort to provide a safe and welcoming space for folks to meet, recreate, and share services and experiences with one another.
Carter has even gone as far as to provide training workshops for local area accessible transportation providers because as she notes: "I'm a caregiver first, but I have to work. I need to know that there is an adult on that bus who understands Autism, some of those programs that are available are far out there, across the state even. I need to know that he's safe."
While for Grace and her son Cashan the current most immediate need is centered around services that support the families ability to thrive while living with Autism, many of the areas identified as in need of additional resources are universal throughout the larger community.
In order to fully realize the benefits that individuals with disabilities are entitled to under laws such as the ADA and the Olmstead Act, the desperate need for affordable means to access trained professionals who are capable of providing support services outside of the traditional DSS and school-based models, increased access to informal recreation and socialization opportunities, and facilities that adapt to the needs of a more diverse user group beyond ramps and accessible bathrooms.
This is far from nor is it intended to be a comprehensive retrospective on the state of disability resources in Connecticut. Rather as is the case with many of the articles you will find under the Perspectives in Righting tab, it serves as a launching point for individuals to explore further on their own, or as a catalyst to begin public dialogues about topics that might otherwise never reach those in positions of influence.