The Road to Transformation: An Introduction to the MPS Dept. of Race & Equity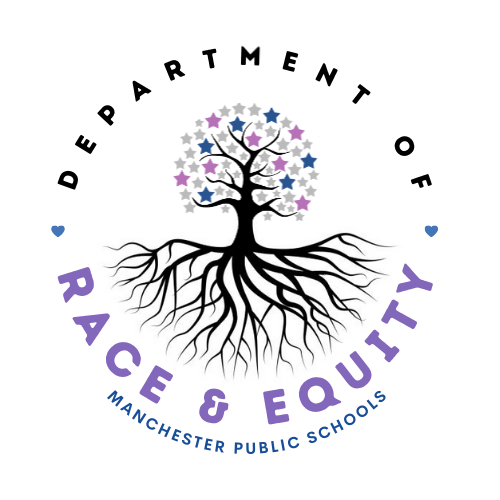 Sometimes it feels as though the world is burning, with the ongoing and lasting effects of the COVID-19 pandemic, the attacks on public education, the continuous threats to marginalized communities in our nation, and so much more. School systems are a microcosm of the larger society, and it may feel like we are constantly putting out metaphorical fires both inside and outside of our classrooms. The Manchester Public Schools' Department of Race and Equity understands and acknowledges the overwhelming weight and pressure that we, as a collective society, are experiencing. We are supporting the MPS community in making sense of the current realities of our world, while we work towards creating the world we all deserve. Our commitment is to create safe and inclusive environments for all of our students, staff, and families where equity is the norm and excellence is the goal.

MPS' Department of Race and Equity (DRE) was established during the 2019-2020 school
year. Our purpose and mission is to work in collaboration with all stakeholders to eradicate
racism and make equity the norm within our district. The work of the DRE is human-focused
and heart-centered; we aim to build human capacity and create conditions that allow for
personal change and transformation. The 2022-2023 theme of the year is Cultivating Change
Through Consciousness, Community, and Context. By working to build racial and social
consciousness and awareness, we can begin to foster a deeper sense of community and
partnership within our district. We believe that deeper levels of consciousness and community,
paired with appropriate historical and situational context around race, can lead us towards true, transformational change.
Though the formal department has only existed for the last few years, the work of race and
equity was being spearheaded by educators of color in the district far earlier. In the early
2000s, Manchester Public Schools, along with four other districts, participated in Courageous
Conversations About Race facilitated by Glenn Singleton of Pacific Educational Group to
address disproportionality of Black and brown youth within Special Education programs in our
state. More recently, in the 2017-2018 school year, a group of volunteer administrators came
together to form a book club that also centered on having Courageous Conversations About
Race. In the next few years, the volunteers grew, and by the 2019-2020 school year, all
administrators were required to participate in conversations and professional development
centering racial equity. "At this point, it was time to formalize a department," says Director, Dr. Diane Clare-Kearney. "It evolved really authentically; we wanted to build a community that would embrace the idea of centering race to dismantle inequities."
To center race is one of our priorities in this department and this district, because we know, as Calvin Terrell says, "race is the container that holds all identities." By understanding the impact and implications of race, we can deeply analyze all other systems of power and privilege. The priorities exist among a larger body of work, which we call The 5 Equity Elements to Eradicate Racism. The 5 Equity Elements is a framework for all district employees to use to provide guidance and support when navigating conversations and issues related to race or equity. Oftentimes, talking about race can be difficult or uncomfortable, and we might struggle to know where to begin.
The 5 Equity Elements is a resource, or tool, that allows us to slow down, focus, and build our
own capacity to look inward and engage in crucial conversations and actions that will work
towards racial equity transformation. All of the programs and learning opportunities the DRE
offers are based within these elements. These programs include, but are not limited to:
The PreK-8 Race and Equity Read-Alouds- A curriculum which provides a diverse array of literature that gives students mirrors into their own experiences and windows into the experiences of others who are different from them.
Equity Leadership Teams- A committed and dedicated team of educators in each school building tasked with leading their school in promoting an anti-racist environment and encouraging courageous conversations centered on justice.
Professional Learning Experiences

Quarterly district-wide Equity Check-ups
Monthly administrative Race and Equity professional development trainings
Learning & Liberation Labs- Workshops with renowned speakers and activists such as Dr. Jamila Lyiscott, Dr. Ken Hardy, Tim Wise, and more.
21 Day Racial Justice Challenge- A district-wide opportunity for personal
growth and education.

 Racial Affinity Spaces

District-wide BIPOC Affinity Gatherings
School-based BIPOC Affinity Space (led by a stipended facilitator)
Hispanic/Latinx Committee
Asian American and Pacific Islander (AAPI) Committee
AWARE- Alliance of White Anti-Racist Educators
These programs and initiatives are just a few of the opportunities provided that center the voices of the most marginalized as we work towards our goal of eradicating racism and making equity the norm. But the reality is that all of these programs and initiatives do not have a lasting, sustainable impact unless we are looking inwards to ourselves and constantly examining the ways in which we need to restructure and shift our own ideologies that have been steeped in bias as a result of our social conditioning. The truth is that there are still deep-rooted inequities that are marginalizing and causing harm to students, staff, and families within our town. It is our collective responsibility to work towards creating a culture that addresses these inequities head on, and celebrates, affirms, and centers our most marginalized.
The road to transformation starts with personal work, the ability to do an archaeological dig of self that helps determine whether we as individuals are helping to perpetuate or dismantle systems of oppression. Through individual commitment to our own personal work of raising our levels of racial consciousness, we can begin to build authentic relationships and community with those around us. Through community, we build capacity which helps keep this work sustainable. Only then can we reach true transformation. This work cannot be done by a singular individual or even a singular department. We all play a role in the maintenance and perpetuation of the current status quo; likewise, we must all play a role in creating a more just and equitable school community and society. True transformation, especially to the extent that we eradicate racism and make equity the norm, is a COLLECTIVE effort. The foundation of sustainable change in the name of justice is community. And we, over at the Department of Race and Equity, are grateful to be in community with you.
For more information about the DRE, please visit https://www.mpspride.org/domain/435.