Suicide Prevention Awareness Month
Content Warning: Please note that this article discusses suicide & self-harm.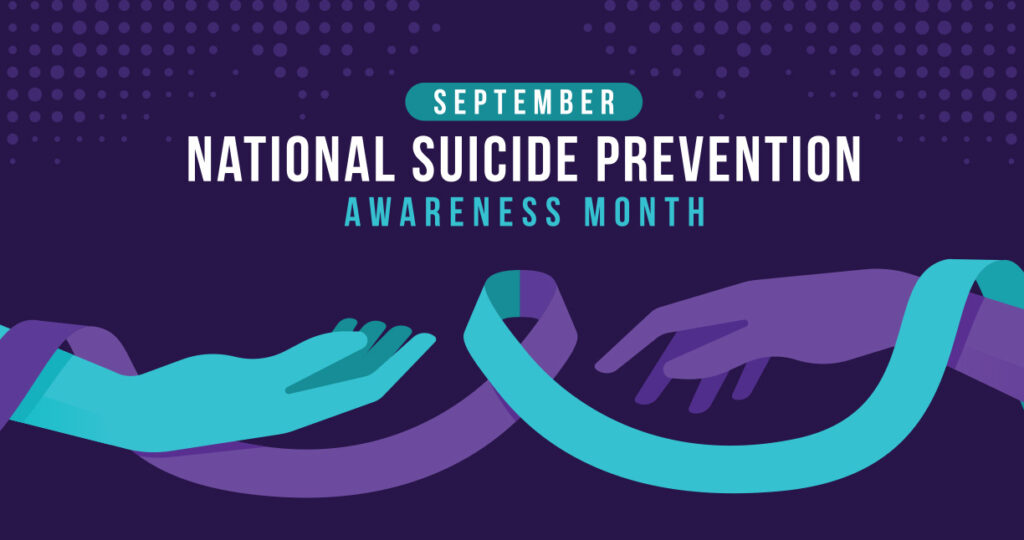 Each September, the global community joins together to commemorate Suicide Prevention Awareness Month, a movement that aims to raise awareness of suicide prevention, combat misinformation on the topic and spread a message of hope. For many, the common refrain of "one death is one too many" rings evermore true in September, powering their journey of prevention, awareness and support.
Suicide has become a leading cause of death each year in the United States, the Center for Disease Control and Prevention reported, and "was responsible for nearly 46,00 deaths in 2020." Suicide rates have increased nearly 30% since 2000, and on a yearly basis, "an estimated 12.2 million adults seriously thought about suicide, 3.2 million made a plan, and 1.2 million attempted suicides."
In 2020, there were a total of 359 suicide deaths in Connecticut alone, down a total of 15 percent from the previous year. While Connecticut's suicide rate over the past five years is one of the lowest in the country, potentially due in part to an increase in public health funding since 2017 or a 23 percent decrease in adults who avoided mental health care due to cost, other challenges continue to mount against Connecticut residents, including income inequality and the prevalence of opioid and other drug overdoses.
To many, the concept of suicide prevention is seemingly insurmountable. Despite the best efforts of advocacy groups and years of advancements in mental health treatment and research, the prevalence of suicide at the local and national level can often exhaust awareness efforts. An important first step in suicide prevention is the acknowledgement of the role of the individual versus the role of the greater community. While it is impossible at the individual level to combat the globalized issue of suicide, there are grassroots manners of organizing and activism that can help to alleviate the stresses at the local level.
One fundamental aspect of suicide prevention is the advocacy for equal mental health treatment for all. While a "post"-COVID world has allowed for some advancements in access, highlighted by items such as an influx of virtual counseling options, mental health treatment is still out of reach for large portions of Americans. Whether it be due to a lack of access to transportation, internet or insurance, many struggling with their mental health do not receive the diagnosis or treatment that they need.
"46% of people who die by suicide had a diagnosed mental health condition," the National Alliance on Mental Illness (N.A.M.I.) wrote. "[However,] research shows that 90% may have experienced symptoms of a mental health condition."
Adequate mental health treatment is evermore necessary for marginalized or underrepresented communities, particularly the LGBTQ+ community. Suicide and self-harm disproportionally affect these communities and, most alarmingly, LGBTQ+ youth have among the highest suicide rates in the country.
"45% of LGBTQ youth [have had prevalent, serious thoughts] of suicide," N.A.M.I. wrote. "Lesbian, gay and bisexual youth are nearly 4x more likely to attempt suicide than straight youth. Transgender adults are nearly 9x more likely to attempt suicide than the general population."
Transgender adults are nearly 9x more likely to attempt suicide than the general population. This fact, one which is a morbid reality for many, has habitually been underreported by the broader American community, an attempt to wash their hands clean of any blame that they may be due. This ignorance has only worsened the issue, and a fundamental aspect of Suicide Prevention Awareness Month is to acknowledge how one can be a part of the solution, rather than one of the many roots of the issue.
"Many transgender young people experience family rejection, bullying and harassment, or feel unsafe for simply being who they are – all of which can be added risk factors for suicide," the Human Rights Campaign reported. "More than half of transgender male teens who participated in the [HRC] survey reported attempting suicide in their lifetime, while 29.9 percent of transgender female teens said they attempted suicide. Among non-binary youth, 41.8 percent of respondents stated that they had attempted suicide at some point in their lives."
Allyship is another crucial way to not only raise awareness of suicide prevention, but to also create a sustainable form of grassroots activism. Simple acts of affirmation and appreciation can have a powerful impact, especially for individuals who are constantly plagued with bigoted notions and outdated misconceptions of their own identity from family members, peers and media.
"Tell your stories of hope and resilience to provide encouragement to those who may be struggling," the Transgender Law Center wrote. "For allies, a simple expression of appreciation, friendship, or love for a trans or gender non-conforming person close to you can be a powerful message."
For those looking for additional resources or ways to further raise awareness, The State of Connecticut has a variety of public mental health resources available online, including but not limited to:
211 of CT's Mental Health resources, which "provides links to providers of counseling services for adults and children and mental health support groups."
Healthy Lives CT, which "provides information and tools for maintaining or regaining wellness in the areas of emotional wellness, physical wellness, holistic wellness, financial wellness and recovery from addiction issues."
SAMHSA Disaster Distress Helpline, which "provides 24/7, 365-day-a-year crisis counseling and support to people experiencing emotional distress related to natural or human-caused disasters."
While Suicide Prevention Month is officially commemorated in September, this should not and cannot be the only month in which we highlight suicide prevention and advocate for equitable mental health treatment. Suicide prevention is a topic whose significance should not be relegated to a calendar month, but rather should be a year-round, community-driven priority.
Help is available. The Suicide and Crisis Lifeline can be reached by calling 988. The lifeline is open 24 hours a day, 7 days a week.