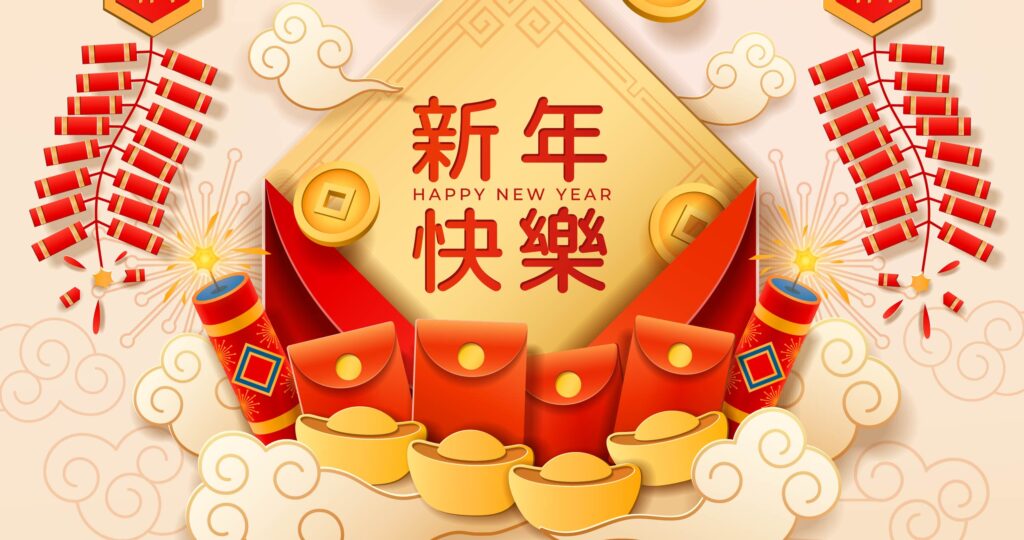 To many, the start of February symbolizes the start of month-long Valentine's celebrations or the inching towards yet another Super Bowl. But to others, this February 1st carries a whole other cultural significance: Lunar New Year.
Lunar New Year will be celebrated this year on February 1, as this signifies the first day of the year in the lunar-solar Chinese calendar. While rooted in some religious foundations, the modern Lunar New Year is a secular holiday, one that many of all ages and backgrounds celebrate, not just in Asia, but throughout many other countries across the world.
Lunar New Year contains a multitude of traditions, including the thorough cleaning of one's house, visiting of loved ones, as well as the sharing of lai see, which are small red envelopes gifted to children and unmarried adults to symbolically share the wealth among family & friends, according to Chloe-Rose Crabtree of Culture Trip. In many ways, traditions are similar to that of many other cultural New Year's celebrations, signifying an "out with the old, in with the new."
While many often refer to Lunar New Year as "Chinese New Year," advocates have argued that doing so often excludes the many other communities that celebrate. While many Chinese celebrate Lunar New Year, the holiday is widely celebrated in Vietnam, Japan, and Korea, among many other countries.
"Let us call it Lunar New Year because it's not only the Chinese who celebrate it. Let us call it Lunar New Year, so it's inclusive and we acknowledge the existence of…other Southeast Asian countries that also celebrate. Let us call it Lunar New Year to appreciate our world diversity," Anh Hong Phuong Dao of The Odyssey Online wrote.
While calling the celebration Lunar New Year allows all cultures to be included in its celebration, Dao said that using its proper name also allows for a better remembrance of the cultural significance and traditions embedded deep within the celebration.
"Lunar New Year is not just the first day of a new year. It is the day of reunion where children and grandchildren come back to visit their home, to look back and reevaluate how their previous year has been," she wrote. "Lunar New Year is not what we 'borrow' and celebrate as something 'foreign,' it is part of our culture. Culture is not what we create; it is what we inherit and pass on through generations."
This idea of a unified and inclusive Lunar New Year celebration is as needed now as ever before, especially with the drastic rise of hate crimes & other racially-charged incidents committed against AAPI individuals in the wake of the COVID-19 pandemic. Stop AAPI Hate found that over 9,000 racist incidents were committed against Asian-Americans in the months following the start of the pandemic, "31 percent [of which] took place on public streets, and 30 percent at businesses," according to NPR.
It is factors such as these that demand allyship & support from all communities, ensuring the safety & inclusion of our AAPI friends, family, and neighbors. Many grassroots organizations have advocated for the unified celebration of Lunar New Year as a means of showing solidarity with the AAPI community, highlighted by the Bay Area Legal Aid.
"Colonialism, immigration exclusion, de facto and de jure enclosures and segregation of communities, coerced and exploited labor, language and culture discrimination all play a role in the exposure of AAPI communities to the threat and reality of hate and violence today," Genevieve Richardson, Executive Director of Bay Area Legal Aid, wrote in an open letter.
However, support for all marginalized and disenfranchised communities must be constant & vigilant, Richardson wrote, and must expand beyond the more performative efforts of some activism. Only from here is true change possible, she wrote.
"Like all antiracist work, this effort is iterative and ongoing."
In keeping with this sentiment, please see below for local & federal resources for Manchester's AAPI community:
We wish a Happy Lunar New Year to all!
Sun nin fai lok! Gong hay fat choy. ("Happy New Year. Wishing you great happiness & prosperity" in Cantonese)
Chúc Mừng Năm Mới! ("Happy New Year" in Vietnamese)