Piecing Together Manchester's LatinX/Hispanic History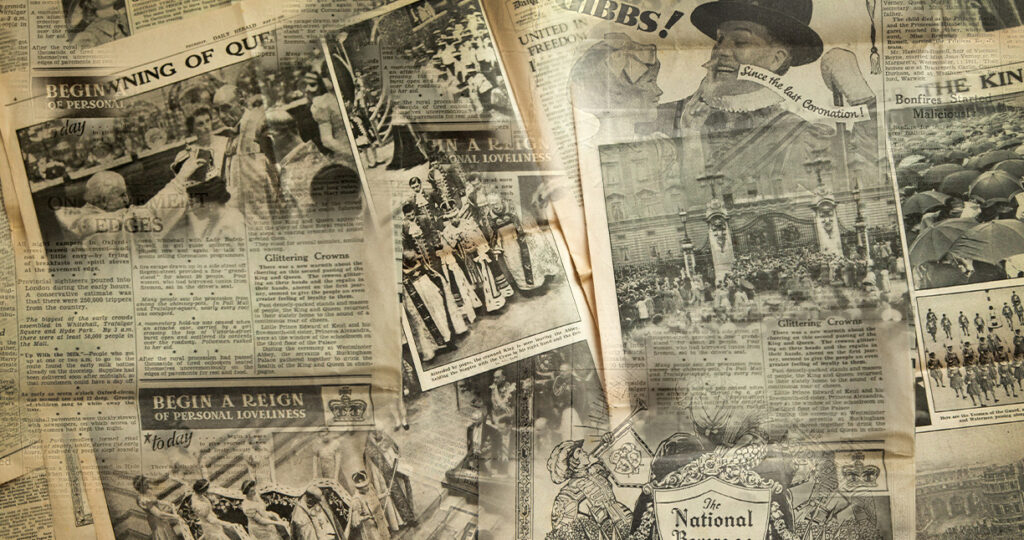 LatinX/Hispanic Heritage Month is a time of retrospection for many people, an opportunity to reflect on their cultural values and traditions. This year, I began to wonder about Manchester's LatinX/Hispanic community and its history within the community.
Manchester has been a popular place for immigrant and nonimmigrant LatinX/Hispanic families to settle for decades. Census data shows a 32% increase of LatinX/Hispanic living in Manchester from 2010 to 2019. However, data also shows that historically excluded groups, like the LatinX/Hispanic community, are usually left out of national and local media coverage or only covered through negative perspectives. So while there was and still is an evident LatinX/Hispanic community, finding historical documents to reflect that proved to be difficult.
The curiosity to see how Manchester's cultural environment has evolved eventually led me to the question I would hope to find a positive answer to: What kind of local media coverage has Manchester's LatinX/Hispanic community received in recent history and how has that coverage (or lack of it) affected the community as a whole?
From this question, I started the task of trying to piece together the LatinX/Hispanic history of Manchester.
I started my search at the Manchester Historical Society. I reached out to their inquiry email to ask if they had any material specifically related to Manchester's LatinX/Hispanic communities. While the Historical Society stated that they had no historical collection of this sort, they said they would continue their search for relevant materials.
Next, I stopped at one of my favorite places from my childhood: the Mary Cheney Library. After working with librarian Jenn Bartlett, I was given access to some amazing pieces of Manchester's documented history. These pieces included various kinds of local written documents, dating back as far as the 1950s from sources such as the Manchester Herald, Manchester Evening Herald  and other local publications. I'm happy to report that a handful of positive articles featuring local LatinX community members were found.
While the following is nowhere near a comprehensive historical summary, it is a good starting point in piecing together the impact the LatinX/Hispanic community has had on Manchester. While there were only four articles found, all of them were written from a positive perspective, highlighting the positive impact that these communities have had on Manchester.
Take a look at the stories down below and take note of their titles, dates, and pictures. Some of the stories have links to digital copies made possible through the Manchester Historical Society's extensive collection of digitized historical files. Find more public historical documents at their website: http://www.manchesterhistory.org/MHS3_Home.html.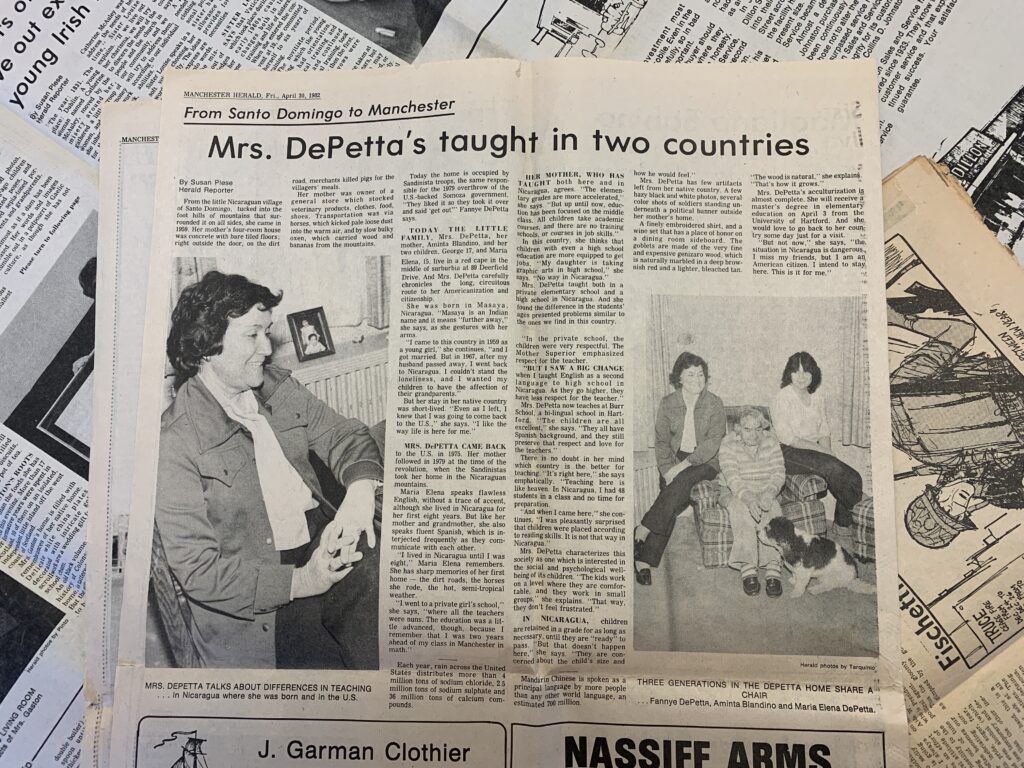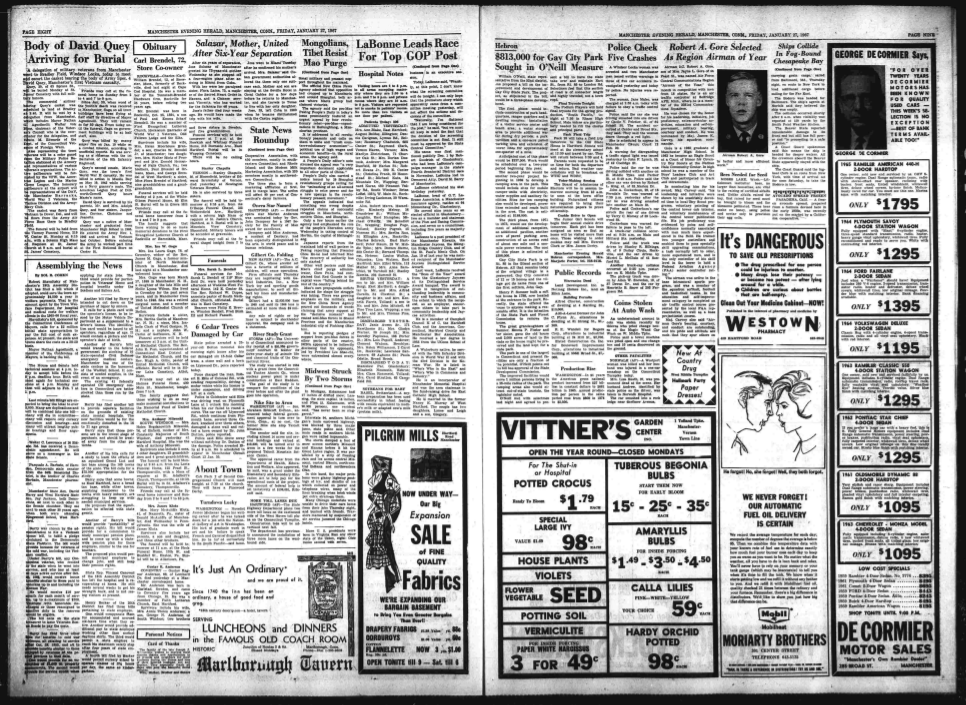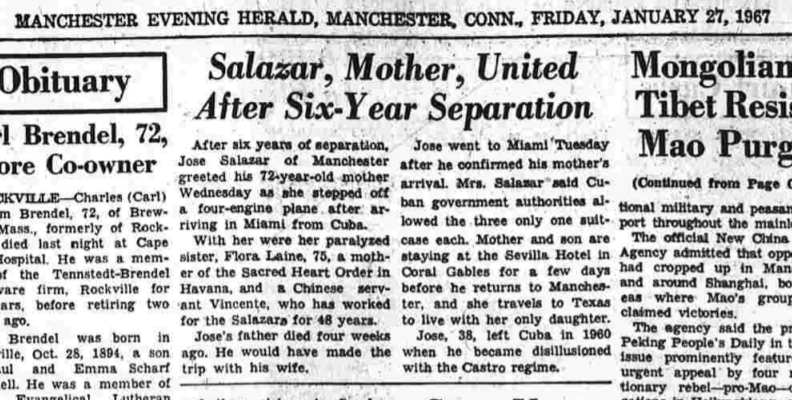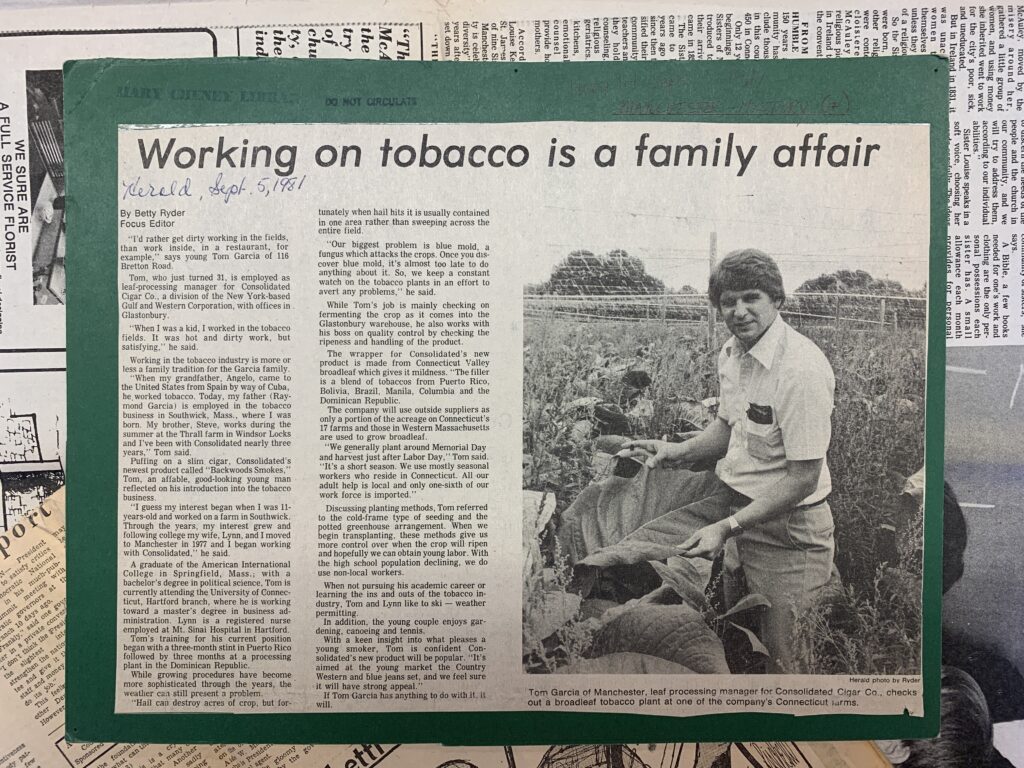 A quick review of the articles reveals a lot about Manchester. There are a variety of nationalities featured, including Cuban, Nicaraguan, and Puerto Rican. The articles also have good representation among different genders and cultural practices within the LatinX/Hispanic community. While I would've liked to have found more articles, these four articles are solid foundation for putting together the local history of Manchester's LatinX/Hispanic community.
Initial findings point to Manchester having a good history of portraying their LatinX/Hispanic residents in a positive light. Our local media went a step further to be intersectional in the people they featured, which could be a sign that this coverage affected the community in a positive way as well. This is only a partial, speculative answer to the original question, however, because of the parameters of my research.
In general, there was still substantially less coverage of POC, immigrants, and other marginalized or underrepresented groups. Manchester has come a long way since these articles were written, which is apparent by the fact that I've written this very article. There is still more work to be done in the form of collecting historical documents and putting together a more comprehensive historical timeline, not only for the LatinX/Hispanic community, but for every other historically significant community within Manchester.
This article is dedicated to all the people featured in these articles. Thank you to Fannye DePetta, Tom Garcia, Jose Salazar, and all the LatinX/Hispanic Manchester community members, past and present, that trail blazed the way for their families, friends and neighbors to have a higher quality of life. They symbolize all the immigrants that have contributed more to our community than we will ever know.
Special thanks to my colleague and Better Manchester staff writer Anthony Rein for his assistance with research on this article.