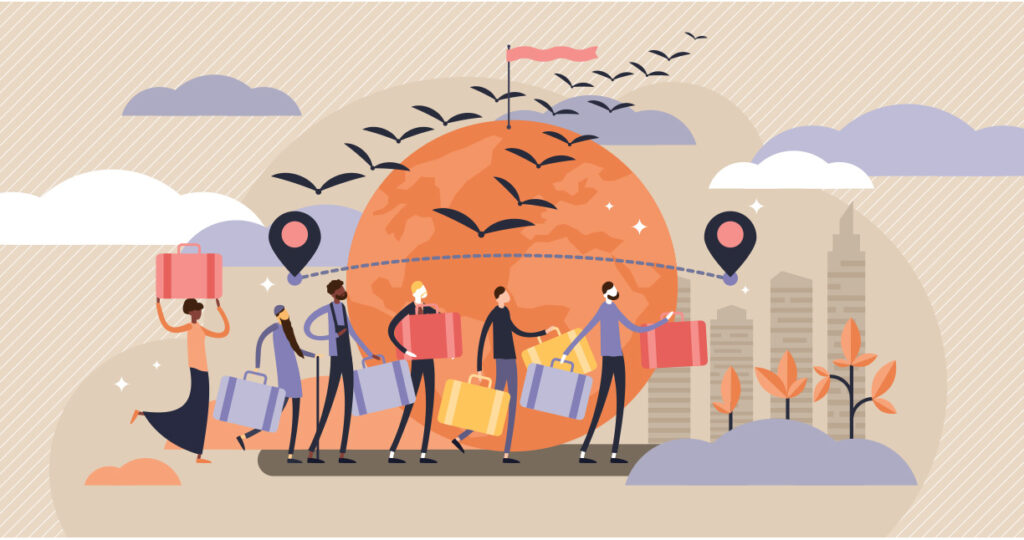 Manchester has been a popular place for immigrant and nonimmigrant LatinX families to settle down for decades. So much so that Census data shows a 32% increase of Hispanic/Latinos living in Manchester from 2010 to 2019. As this important community continues to grow, so should the awareness of the issues that continue to affect them.
Nationally, the LatinX community is 50% uninsured, have higher obesity rates, are less likely to graduate high school, and hold less managerial and professional occupations and more service jobs than their non-LatinX counterparts. These generational issues deeply affect the LatinX community by causing higher rates of health complications, poverty, and domestic violence.
The Manchester LatinX community is no exception to these concerning issues. Fortunately, there a number of local organizations that are actively working to combat them.
In an effort to celebrate LatinX Heritage Month and to support all LatinX community members, this resource list was created to help connect those in need with essential services.
Below you will find local resources for LatinX people and families (documented and undocumented) in need of food, shelter, legal aid, healthcare, rent/utility bill assistance, and education. Also included in this list are local organizations with various programs available and national/state databases for individuals that want to continue their own research.
These resources can be used by any person or family. Most of the resources listed have been specifically tailored to people of LatinX origin that don't qualify for other programs and services.
Contact [email protected] if there are any additional programs, organizations, or resources that should be added to this list.
Food Pantries:
Second Congregational Church Food Pantry
385 North Main Street, Manchester, CT
860-649-2863 Fridays, 10 AM – 12 PM
We Can Food Pantry
165 West Middle Turnpike, Manchester, CT
860-646-5995
M – F, 9 AM – 4:30 PM
MACC Charities Community Emergency Food Pantry
466 Main St, Manchester, CT
860-647-8003 ext. 28
T 1:30 PM – 4:30 PM, W 9:30 AM – 12 PM, Th. 3 PM – 5:30 PM, F 11 AM – 1:30 PM
Provides nonperishable food items for self-selection by appointment only
The Community Kitchen
Manchester Area Conference of Churches 466 Main St, Manchester, CT
860-647-8003 ext. 21
Weekday meals served Monday – Saturday, 11:30 AM– 12:45 PM
Soup Kitchen
661 Main St, Manchester, CT
860-469-7787
Sunday Meals served 11:30 AM – 1 PM to anyone in need (by appointment)
Legal:
175 Main Street, 2nd Floor, Hartford, CT 06106 | 860-692-3085 o The Immigration Legal Services Program provides affordable legal assistance to immigrants and their families. Established in 1918, the agency is the only statewide nonprofit agency recognized by the Department of Justice (DOJ) and primarily services lower income individuals. Program staff, comprised of attorneys and DOJ Accredited Legal Representatives, are committed not only to providing immigration counseling and representation, but also to empowering individuals so that they understand the immigration law and their rights under the law.
Legal Resource Assistance Line
Hartford County – Greater Hartford Legal Aid – (860) 541-5000
Health:
175 Main Street, Hartford, CT 06106 | 860.527.0856
The Hispanic Health Council is a nationally recognized, statewide community-based organization, whose mission is to improve the health and social well-being of Latinos and other diverse communities.
Low Cost, "Undocumented Safe" Clinics
First Choice Health Centers – Manchester 444 Center Street, Manchester Phone: 860.528.1359 Website: www.firstchc.org/

First Choice Health Centers 150 North Main Street, Manchester Phone: 860.528.1359 Website: www.firstchc.org/

InterCommunity – East Hartford Office 281 Main Street, East Hartford Phone: 860-569-5900 Website: www.intercommunityct.org/

First Choice Health Centers – East Hartford 809 Main Street, East Hartford Phone: 860.528.1359 Website: www.firstchc.org/

Community Health Services 500 Albany Avenue, Hartford Phone: 860.249.9625 Website: www.chshartford.org/

Wheeler Family Health and Wellness Center 43 Woodland Street, Hartford Phone: 860.584.6555 Website: www.wheelerclinic.org/

Charter Oak Health Center 21 Grand Street, Hartford Phone: 860.550.7500 Website: www.thecharteroak.org/

Connecticut Pediatrics @ CHC 76 New Britain Avenue, Hartford Phone: 860.347.6971 Website: www.chc1.com/
Bill Assistance:
Emergency Rental Assistance for families who have been impacted by COVID-19.
The Connecticut Energy Assistance Program (CEAP) is designed to help offset the winter heating costs of Connecticut's lower income households, specifically those households whose income falls at or below 60 percent of the state median income. Accepting applications now.
Operation Fuel provides emergency energy and utility assistance to households in Connecticut that are facing financial crisis.
Local Organizations:
Integrated Refugee and Immigrant Services
Integrated Refugee & Immigrant Services (IRIS) is a non-profit agency whose mission is to help refugees and other displaced people establish new lives, strengthen hope, and contribute to the vitality of Connecticut's communities.


Center for Latino Progress
The Center for Latino Progress is a partner in building stronger communities and celebrating the strength, vitality and potential of our Latino community. We do this by providing culturally competent services and programs that foster individual and community growth, and create economic opportunities for all.


Capitol Workforce Partners
Capital Workforce Partners helps individuals overcome barriers to employment and closes the gap between skills and business hiring needs.


Catholic Charities
Catholic Charities is a non-profit agency that offers a wide variety of programs and services for children, adults, and families.
The Manchester Housing Authority (MHA) is a public agency that provides subsidized housing to low and moderate income individuals and families. In addition to conventional public housing communities throughout Manchester, MHA offers rental assistance programs.


Governor's Family Preparedness Plan
This packet created by the governor's office will help everyone create a Family Preparedness Plan, regardless of immigration status.
State and National Search Engines:
The U.S. Department of Housing and Urban Development's (HUD) Find Shelter tool provides information about housing, shelter, health care, and clothing resources in communities across the country


211
o 2-1-1 is a free, confidential information and referral service that connects people to essential health and human services 24 hours a day, seven days a week online and over the phone.
Low Cost "Undocumented Safe" Clinics Search Tool