Manchester to Host Juneteenth Freedom Day Commemoration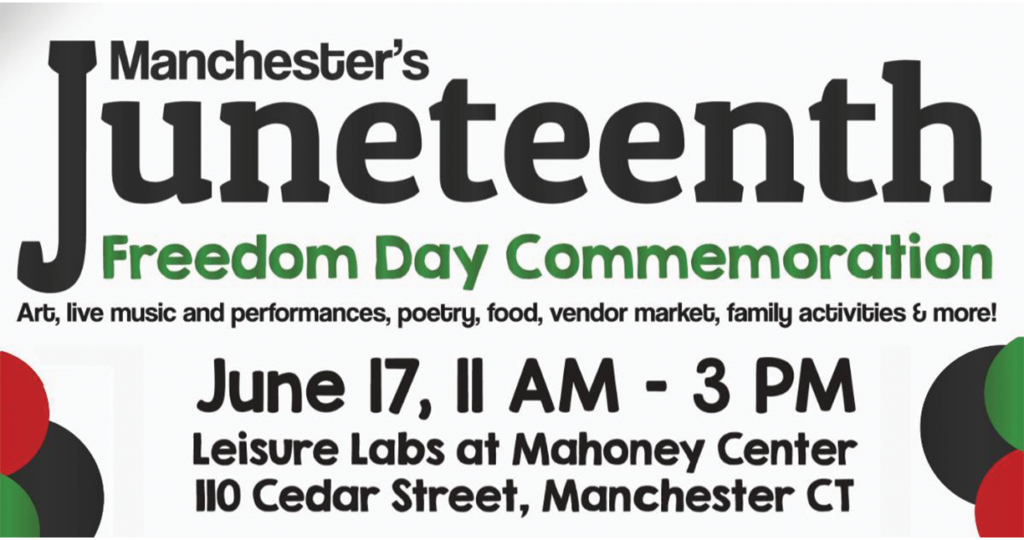 The Town of Manchester's Department of Leisure, Family and Recreation will host their 3rd annual Juneteenth Freedom Day Commemoration on Saturday, June 17th from 11:00 AM – 3:00 PM at the Leisure Labs at Mahoney Center, 110 Cedar Street.
This year's event will feature musical performances by Mixed Company & Hartford's Proud, a Black-owned vendor & food market, family activities, performances from the Black Joy Poetry Contest and much more.
Juneteenth, which refers to the nineteenth day of June, is deeply rooted in America's history of racism, slavery & the consequent emancipation of enslaved individuals in the mid-19th century. President Lincoln, who signed the Emancipation Proclamation on January 1st, 1863, marked the official end of slavery in the confederate states. However, it was not until two and a half years later, on June 19th, 1865, when over 250,000 enslaved people were informed by federal troops that they were free and no longer the legal property of slaveholders.
"Enslaved Black people, now free, had ample cause to celebrate. As Felix Haywood, a former slave, recalled: 'Everybody went wild. We all felt like heroes…just like that, we were free,'" NPR'S Sharon Pruitt-Young wrote. "[However], slavery did not end on Juneteenth. It was not uncommon for slave owners, unwilling to give up free labor, to refuse to release their slaves until forced to, in person, by a representative of the government."
Juneteenth is crucial as not only a resource for remembering and honoring our nation's & people's past, but to also recognize and advocate in support of the continuing struggle of Black Americans for inclusion & equity. Further items such as the Pan-African flag symbolize Black liberation in the United States & honor the bloodshed in the generations-long battle for equality.
"The Pan-African flag's colors each had symbolic meaning. Red stood for blood – both the blood shed by Africans who died in their fight for liberation, and the shared blood of the African people. Black represented, well, Black people. And green was a symbol of growth and the natural fertility of Africa," NPR's Leah Donnella wrote in "On Flag Day, Remembering the Red, Black and Green."
Yearly Juneteenth commemorations have taken place throughout the country since 1865, ranging from smaller community celebrations to widespread national events. The Town of Manchester officially marked Juneteenth as a municipal holiday in late 2020, hosting their own celebration every year since.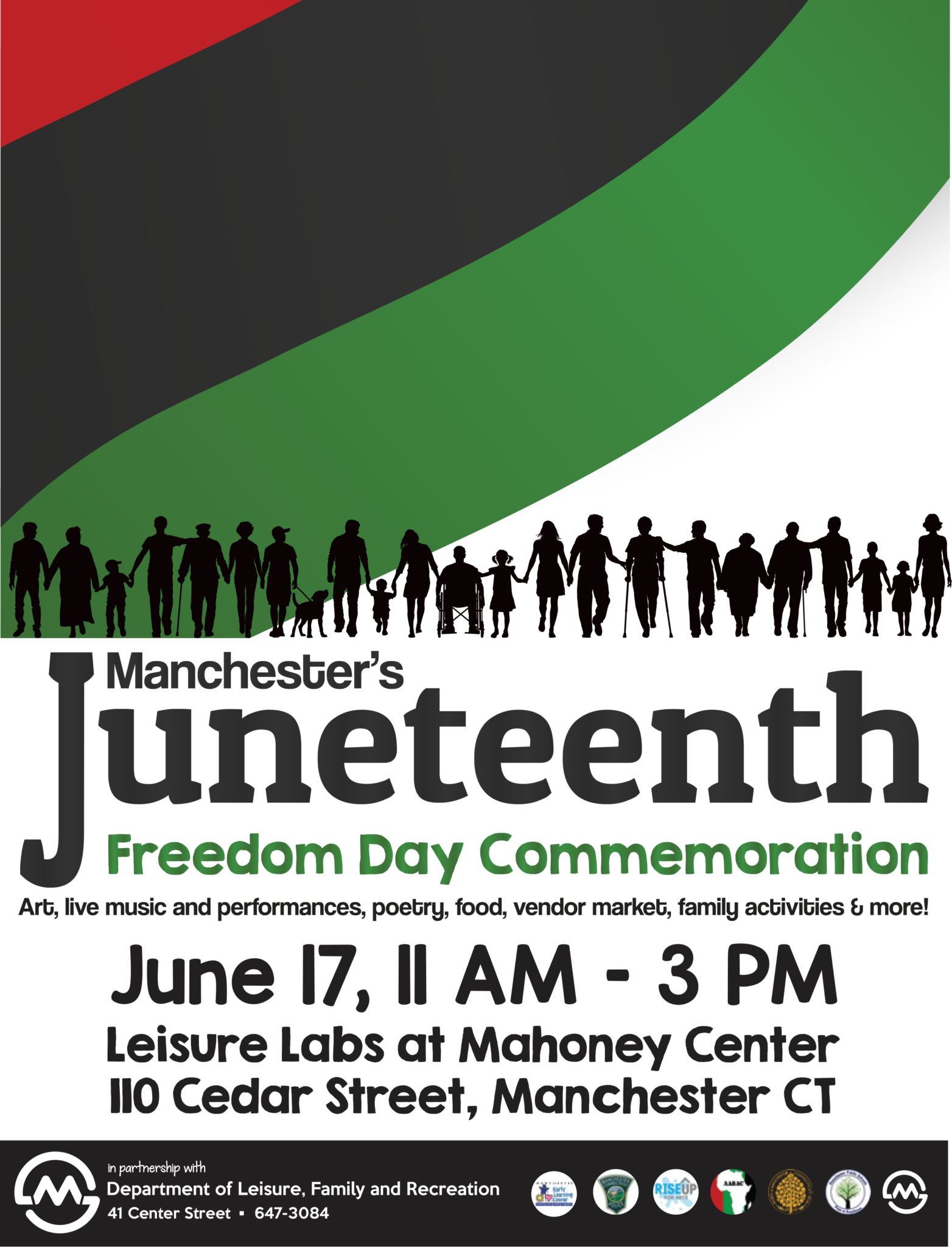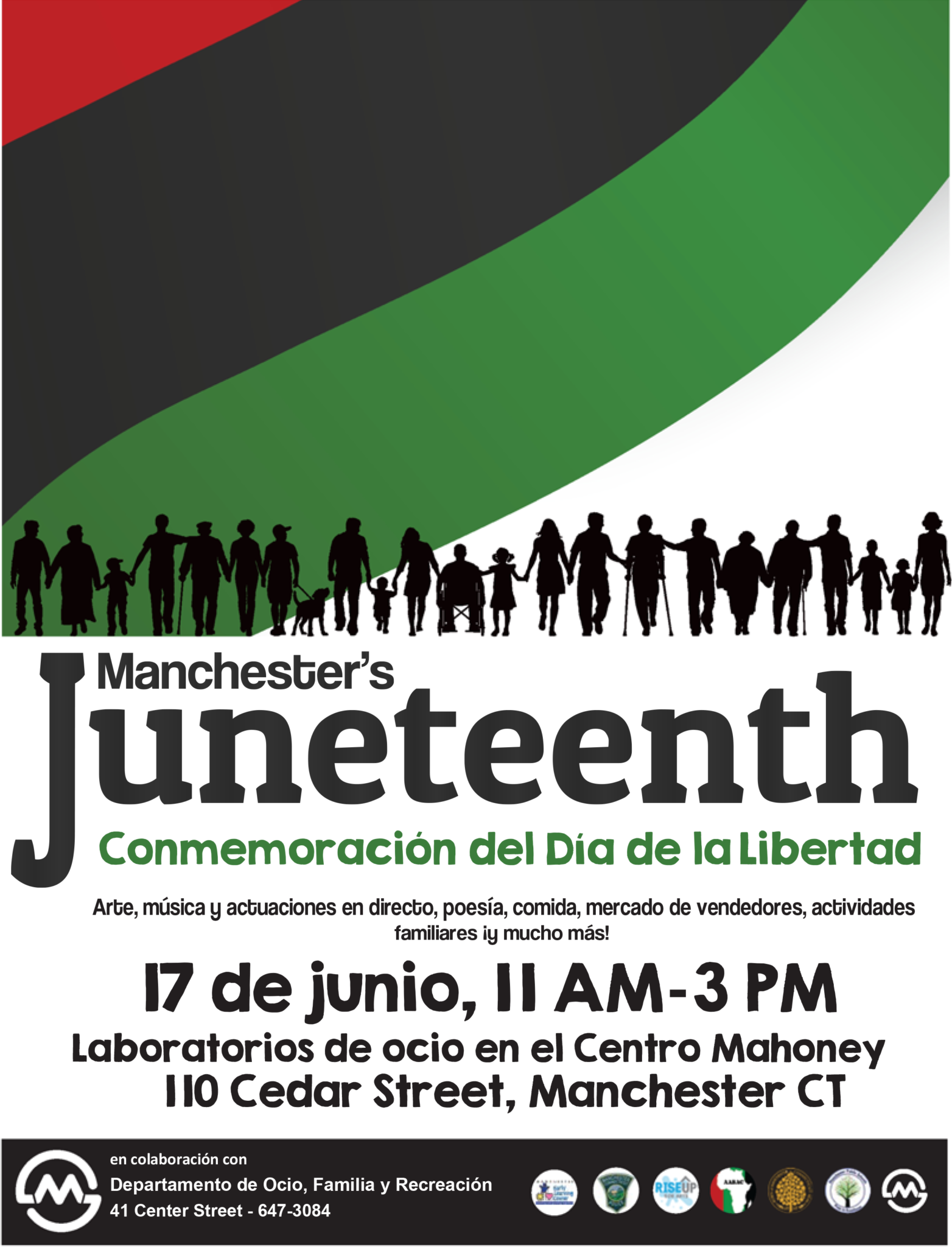 This year's event will include a variety of stage performances, ranging from featured musical bands, poetry readings, commemorative addresses & more. The complete stage schedule is as follows:
Opening Block (11:00 AM – 11:30 AM):

Town of Manchester Introductions
Libation Ceremony with Brother Abu
African American & Black Affairs Council
Poetry Performance with Kwasi Ntem-Mensah

DJ Performance (11:30 AM – 12:00 PM)
Feature Performances (12:00 PM – 2:00 PM):

Mixed Company (12:00 PM – 1:30 PM)
Hartford's Proud (1:30 PM – 2:00 PM)

DJ Performance (2:00 PM – 2:40 PM)
Closing Block (2:40 PM – 3:00 PM):

Black Joy Poetry Contest
Closing Remarks with Janzé Richardson


This year's Juneteenth Commemoration also thrives to uplift local Black-owned food & business vendors, many of whom are based right here in Manchester. The current slate for the Black-owned food & vendor market includes:
Food

Cream Time
Decadent Dogs
Kona Ice
Pop's Hot Diggity Dogs
Sabores Mexicanos Foodtruck
Thomas Smokey Pit Stop
The Wright Slice of Cheesecake

Artisans, Vendors & Info Tables

A Clay Zone
AppleFallsPrints
Big Red Book Truck
History Chip
Hippie Love
Key Key Kreations LLC
Town of Manchester Sustainability Commission


Senior Recreation Supervisor Calvin Harris, now in his third year overseeing the Town's Juneteenth Freedom Day Commemoration, aims for this year's event to be a celebration of local Black vendors, performers, youth and much more. Juneteenth is not only an opportunity to commemorate our history, Harris said, but to do so as a united, proud Manchester community.
"It is amazing over the past two Juneteenth Commemoration's how much insight I have gathered, from community engagement to the Black-owned businesses that take part in the event," Harris said. "As we embark on our third Juneteenth journey…I am excited to see all the faces and enjoyment that will be on display. I am Black, I am a proud community member and I love the Town of Manchester."
We hope you will join in with the Town of Manchester this year in commemoration of Juneteenth & our celebration of the diverse slate of local Black artists, business owners & performers who make it an honor to call Manchester home.
Questions about the upcoming Juneteenth Commemoration? Contact the Neighborhoods & Families Division at (860)647-3089 or follow along on the event's Facebook.