Summer Program Registration Opens May 3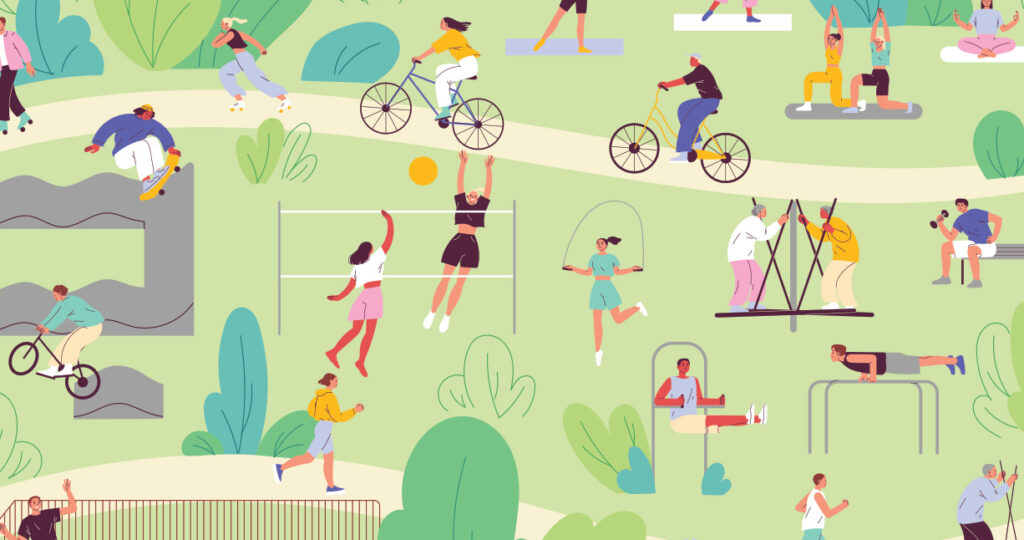 Registration for summer programs is fast approaching! Starting on May 3rd for Manchester residents (May 5th for non-residents), registration will open for the Department of Leisure, Family and Recreation's slate of summer programming.
Registration can be completed:
Online at 1 WEB Splash (townofmanchester.org)
Over the phone at (860)647-3084.
In-person at the Community Y, the Leisure Labs at Mahoney Center or the Center Springs Main Office.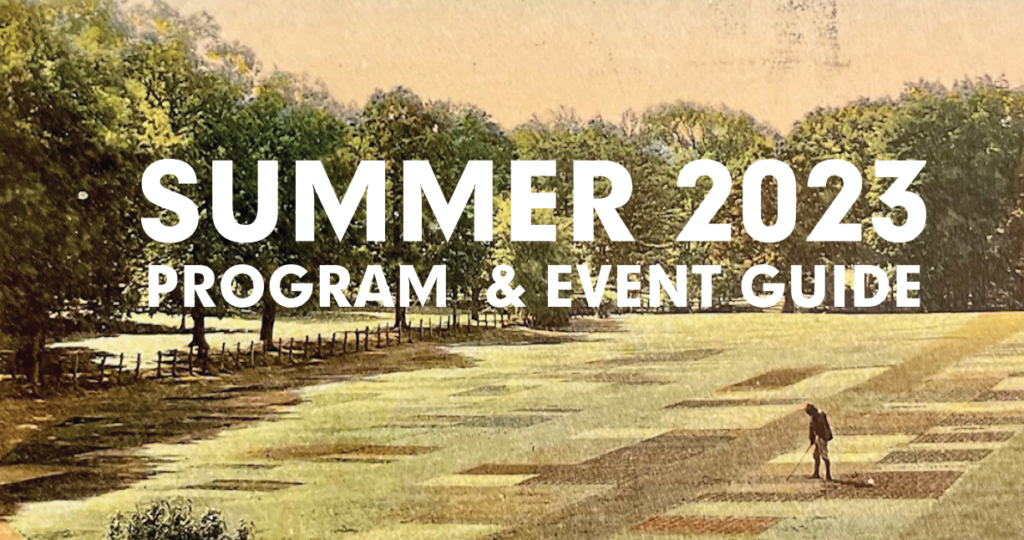 Find the Summer 2023 Program and Event Guide from the Department of Leisure, Family, and Recreation available now!
Read More »
Mark your calendars & be sure to register early!
In addition to the Department of Leisure, Family and Recreation's summer programming, we are proud to offer a robust slate of programs and special events in collaboration with the Town or Manchester's Bicentennial Celebration. Hosted by the Town of Manchester & a variety of local partner organizations, the celebration will host dozens of events throughout the calendar year. Check out the Bicentennial Commemorative Guide for a complete listing of programs and events.
For many locals, when they think of summertime in Manchester, one thing immediately comes to mind: swimming at the town's many aquatics facilities. Please see the below chart for the summer season overview for Globe Hollow, Salters Pool, Swanson Pool, Marcy MacDonald Pool & Waddell Pool: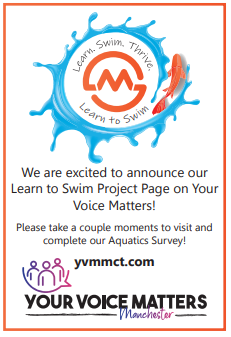 Pre-Season (Marcy MacDonald Pool only)
Dates:                          June 19-25
Open Swim:                1:00 PM – 5:00 PM
Adult Lap Swim:        5:00 PM – 6:00 PM
Regular Season (All Pools)
Dates:                          June 26-August 13
Hours:                         Regular summer schedule & hours
Independence Day Hours (Globe Hollow only)
Hour:                           1:00 PM – 6:00 PM
Post-Season (Marcy MacDonald Pool only)
Dates:                          August 14-20
Open Swim:                1:00 PM – 5:00 PM
Adult Lap Swim:        5:00 PM – 6:00 PM
For first-time swimmers both young and old, the Recreation Division offers an assortment of swimming lessons for those on all steps on their aquatic abilities. Lessons are currently available for infants (6 months through 18 months; a parent or guardian must be in the water with their child), toddlers (19 months through 3 years 5 months), preschool (3 years 5 months – 5 years), youth (ages 5+) & adults.
Outside of swim lessons, join us for our Friday Night Pool Events! Come showcase your artistic abilities at Deck Art Night, or bring out the whole family for Free Family Swim Night! Looking to get your pup cooled off? Join us for the annual K-9 Kerplunk (August 23), run in conjunction with the Manchester Youth Commission.
Join the Town of Manchester and their local partners for the 3rd annual Juneteenth Freedom Day Commemoration, currently scheduled for Saturday, June 17 from 11:00 AM – 3:00 PM at the Leisure Labs at Mahoney Center, 110 Cedar Street. The celebration will include live music by Mixed Company, a dance performance by Hartford Proud, food trucks, a black-owned vendor market, family activities & much more!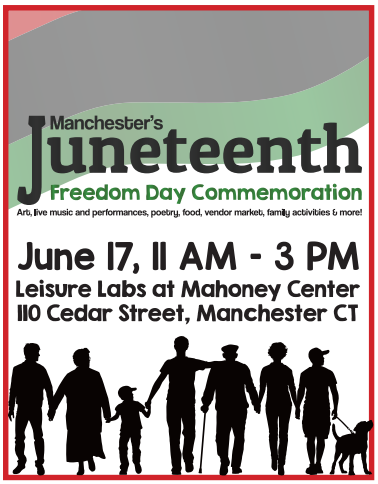 Over at the Northwest Park Early Childhood Center, the summer is filled with educational & social activities for early childhood, from infants through five years of age. Interested in development groups for preschool aged children? Check out the Cradle to Crayons program or Little Artists Drop-In Craft Time. A first-time parent in need of a support channel? Check out the Mommy & Me Playgroup or the Parent Cafe, which provides socialization opportunities for parents and their children alike.
In addition to early childhood classes, the Youth Service Bureau is committed to offering a robust slate of programming, from early childhood all the way through teenage-oriented programs. Girls Week (sessions available for young women ages 7-14+) and Boys Week (sessions available for young men ages 10-13+) will provide social enrichment and creative opportunities for local teens; come learn something new and express yourself! Additional support & community offerings include PFLAG, Youth and Police, the Teen Center and much more.
The Charter Oak Park Summer Event Series returns for a slate of free, family-friendly activities for all. From Police Department Night to Sunset Yoga, come hang out with the Manchester community and enjoy the amenities at the beautiful Charter Oak Park. In addition, the Charter Oak OurShop will be open Mondays-Friday from 5:30 PM – 8:30 PM, which offers bike and scooter rentals; please have proper identification and safety equipment to rent.
Another summertime favorite, Rec on the Run, is excited to return for yet another season of creative pop-up fun. With themes including Paint Week, Tie Dye It Week, Bead It Week & more, Rec on the Run's summer schedule is as follows:
Mondays @ Northwest Park, 448 Tolland Turnpike (5:00 PM – 7:00 PM)
Tuesdays @ Westside Oval, 110 Cedar Street (5:00 PM – 7:00 PM)
Wednesdays @ Nathan Hale, 160 Spruce Street (5:00 PM – 7:00 PM)
Thursdays @ Center Memorial Park (5:00 PM – 7:00 PM)
Looking to shop local? Join us for the Manchester Farmers Market series, highlighted by the Spruce Street Farmers Market (Wednesdays, June 7 – August 30, 4:30 PM – 7:30 PM at Market Field, 163 Spruce Street) and the Northwest Park Farmers Market (Wednesdays, September 6 – October 25, 4:00 PM – 7:00 PM at Northwest Park, 448 Tolland Turnpike). Vendor selections are thoughtfully curated to include diverse food and business owners, with products including fresh produce, meat & eggs, food trucks, artisans and much more!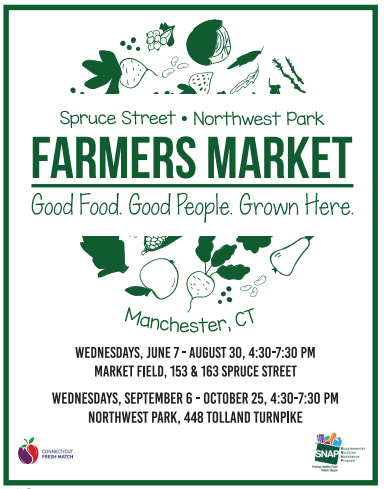 In addition, the market also accepts EBT payments & will double the value of SNAP purchases up to $20.00 (spend $20.00 using your EBT card to receive an additional $20.00 to spend on SNAP-eligible items). In addition, all children in attendance will receive a $2.00 voucher at each market to use on fresh produce through the Power of Produce program.
The Neighborhoods & Families Division, housed on Spruce Street's Eastside Neighborhood Resource Center, will also be hosting several learnshops throughout the summer season. Join us for art-focused special programming such as the Clay Workshop with A Clay Zone (08/05/23, 1:00 PM – 3:00 PM) and a Candle Making Learnshop with Laurie Lynne of Creative Girl Studios (06/03/23, 6:00 PM – 8:00 PM). Into competitive playing cards? Join us for our slate of Pokémon TCG programs, hosted by the nationally-ranked Pokémon TCG player Vaughn O'Brien.
The Tiny Gallery, located at Building 2 at Northwest Park, will play host to a variety of local art exhibits, including MHS Independent Study presented by Audrey Labbe (opens 5/10), Origami Plea presented by Benjamin Parker (opens 8/9), For the Love of a Dog (opens 9/6) and much more. The Tiny Gallery is open Wednesdays, May-December from 4:30 PM – 7:30 PM; check it out while shopping at the fall's Northwest Park Farmers Market!
For adults looking for fitness programs, there is no shortage of offerings to support active lifestyles for all, regardless of ability. Two brand new instruction-based pickleball courses, Intro to Pickleball & Intermediate Pickleball, will be offered by Samuel Kim, one of CT's top five ranked pickleball players and an International Pickleball Teaching Professional Association (IPTPA) certified instructor. The Community Y will also play host to other fitness programs, including Yoga for Active Lifestyles, Total Body Plus, and Barre and More.
The Town of Manchester Senior Center will also be offering a wide variety of programs & community services, ranging from senior basketball, zumba classes, social leisure programs and much more! For the complete listing of Senior Center programs, please visit their official website.

No matter what your programming interest, from leisure programs to fitness activities to special family events, the Department of Leisure, Family and Recreation has a little bit of something for everyone in the Manchester community. Come commemorate the Town of Manchester's Bicentennial Celebration with us & celebrate our local spirit!
Questions? Contact the Recreation Main Office at (860)647-3084.