Hearts in the Present, and an eye on the Future!
Manchester Celebrates 200 with 300 years of Art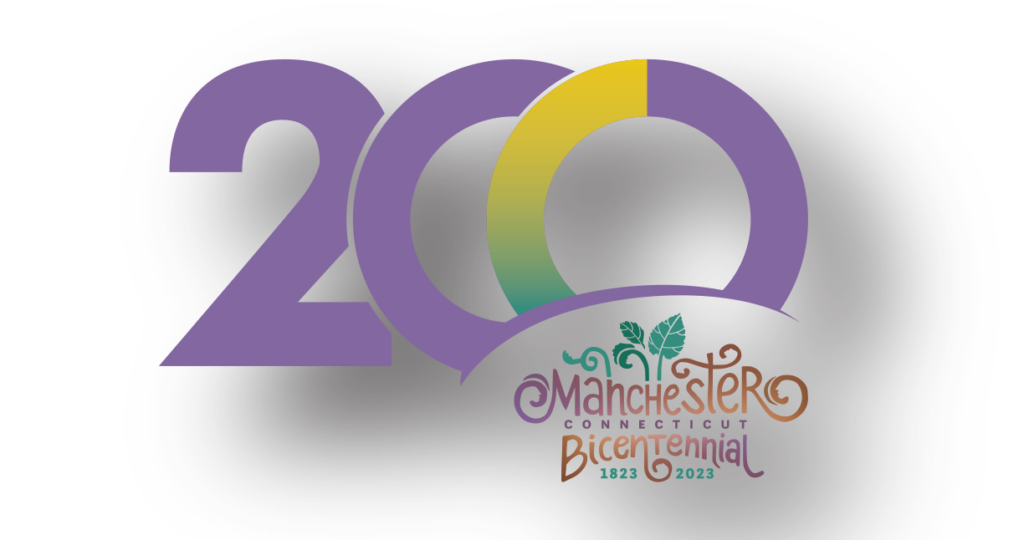 As part of the ongoing Bicentennial Celebration community members are encouraged to attend a full day of events and entertainment taking place during the "2nd Saturday Downtown" event on Saturday May 13th. The downtown area will be alive and bustling featuring morning yoga and music at Center Memorial Park, a vibrant butterfly stroll down Main Street, and an open air trolley to transport patrons between special event locations throughout the surrounding area.
After you have taken in a morning concert, grabbed a bite to eat, and recorded your personal story as part of the time capsule display, be sure to jump on board the trolley and take a ride to any of three locations participating in one of the celebrations' marquee events,

300 Years of Manchester. The PAST, The PRESENT, The FUTURE.
A 3 Venue Art Show presented through a collaboration between Work_Space, The Manchester Historical Society, and The Lutz Children Museum.
Visitors will be transported by open air trolley down Main Street and through the historic mill district, making stops at exhibits featuring local artists representative of Manchester's rich history, its vibrant present, and its potential for the future.
The PAST
Art reflective of Manchester's history will be on display at the History Center, visitors can also experience an immersive dive into Manchester's past at the historic Cheney Homestead.
Sat. and Sun. 12:00 p.m. – 4:00 p.m.
The History Center, 175 Pine Street, Manchester, CT, 06040
The Historic Cheney Homestead, 106 Hartford Road, Manchester CT, 06040
The PRESENT
Artists attending a Manchester Public Elementary School will have their work collected at their home school for display. The exhibit runs from April 18 – May 28, featuring a different school each week.
T-F 9:00 a.m. – 12:00 p.m. & 1:00 p.m. – 4:00 p.m.
Sat. and Sun. 12:00 p.m. – 4:00 p.m.
Lutz Children's Museum, 247 S. Main Street, Manchester, CT, 06040
The FUTURE
Celebrate the next 100 years of Manchester with an incredible exposition highlighting the talent of local artists and performers. Join on Saturday May 13th for an afternoon of art and an evening of magic!
"Manchester has our very own award-winning magician who will be performing live at WORK_SPACE during our FUTURE OF MANCHESTER art exhibit."
Be dazzled by live magic in our Main Street gallery in the heart of Downtown Manchester, CT. Local award-winning magician Kody Hildebrand puts a new twist on traditional magic. No special effects, just a special and unique evening filled with magic, humor and great talent.
300 Years of Manchester, The FUTURE
Sat. May 13th 12:00 p.m. – 4:00 p.m.
The Future of Magic: An evening with Kody Hildebrand
Sat. May 13th 7:00 – 8:30 p.m.
Registration required: Pre Order Tickets