Election Day: Are You Ready?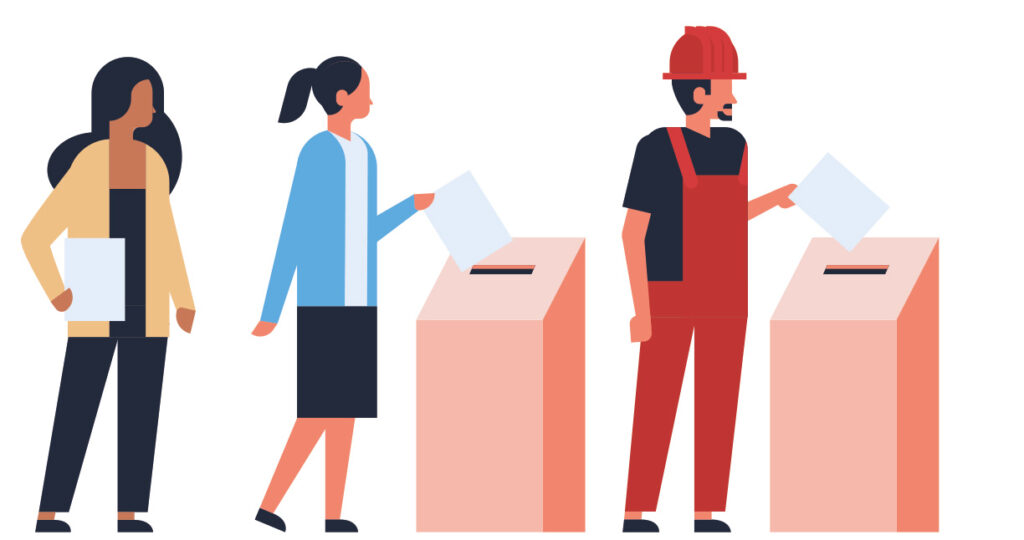 It's that time of year again. From the ads clogging Sunday Night Football's commercials to the yard signs filling your neighbor's lawn, it is most certainly election season.
On Tuesday, November 8, thousands across Manchester will head to their local polling place to uphold their civic duty of voting and ensuring that their voice, if even just represented by a solitary vote, is heard. However, with this duty comes the inevitable questions and digging for answers, a process that often prevents many potential voters from participating.
As always, there are key dates to keep in mind as we approach Election Day. Some deadlines & voting guidelines for November's Election Day includes:
All polling places will be open on Tuesday, November 8 from 6:00 AM – 8:00 PM. Any voter standing in line at the polls at 8:00 PM will be allowed to vote.
Deadline for mail-in & online registration for new voters: November 1, 2022
Deadline for in-person registration at the Registrars of Voters Office for new voters: November 1, 2022 at 8:00 PM.


Voter Registration Applications can be obtained by contacting the Registrar's Office at (860)647-3025. Printable applications are available online on the Secretary of the State's website & completed copies can be mailed to:
Registrar of Voters
479 Main Street, Manchester, CT 06040
A crucial question to ask yourself after registering to vote is, "Who is even on my ballot?" Luckily, Ballotpedia has your back. Ballotpedia, a "digital encyclopedia of American politics, and the nation's premier resource for unbiased information on elections, politics and policy," provides tools on not just sample ballots, but also any ballot questions or amendments. For example, on Connecticut ballots this year, the Allow for Early Voting amendment will be put in the hands of the voting body.
For many, a lack of accessibility options at their polling place (or even the perceived lack of access) has served as a barrier for generations of voters. However, the Connecticut Secretary of State's Office has long fought for more equitable access to polling places & the actual act of voting, particularly in the past few decades. The Secretary of States' Voters with Disabilities Fact Sheet has a variety of accommodations guaranteed to voters, including but not limited to:
"Accommodations can be made if you have difficulty standing in line at the polls."

Several accommodations can be made for individuals who have difficulty standing in line, including but not limited to approaching the Moderator to request their placement in line be moved or to have a chair provided for them.

"You have the right to use a ballot marking device at the polling place."

Accessible ballot marking devices are available at every polling place for those who need or prefer them. This system allows you to make your selection via a touchscreen display or audibly as opposed to typical pen and paper voting.

"You have the right to vote independently and privately."

You have the right to vote without "interference, coercion or intimidation." If your right to vote independently and privately is encroached when at your polling place, please notify your polling place's Moderator.

"You have the right to receive assistance if you need help casting your ballot."

You have the right to receive assistance with voting from an individual of your choosing. However, this person cannot be your employer, an agent of your union or a candidate whose name appears on the ballot.

"You can obtain an emergency absentee ballot if you are suddenly injured, taken ill, or have been hospitalized within six (6) days of the election."

Emergency absentee ballot applications are issued by the Clerk & requires the identification of the individual's designee. Completed emergency absentee ballots must be returned to the Town Clerk's office by the end of Election Day.

"You have the right to file a complaint about accessibility or other voting rights violations."
Another means to further level the playing field for all potential voters is the streamlining of the voter registration & polling place lookup process. Voter registration lookup can be completed on the Connecticut Secretary of State's website and only requires an individual's full name, date of birth and city/town of residence.
As the conversation surrounding voter ID laws is often complicated by constant debates of the topic at the local & national level, the State of Connecticut has attempted to simplify the process. The state has created two categories for voters & their voter ID requirements:
First time registered voters: Must present a current photo ID that shows name & address; OR a copy of a utility bill, bank statement or government address that shows your name & address; OR cast a provisional ballot.
All other voters (which includes most voters): Must present a social security card; OR any pre-printed form of ID that shows name/address or name/photograph; OR sign a statement under penalty of false statement.


With all of these advancements in access for voters, how has it impacted the actual voting population? Have efforts toward accessibility correlated to increased turnout, or have voting trends remained stagnant with past rates?
According to the Connecticut Secretary of the State's Office, registration and party enrollment was last documented in 2021 as the following:
Republican Party: 5,236 active voters / 505 inactive voters
Democratic Party: 13,788 active voters / 1,431 inactive voters
Third Parties: 659 active voters / 87 inactive voters
Unaffiliated: 13,629 active voters / 2,019 inactive voters
Total Voters: 33,312 active voters / 4,042 inactive voters


It is one thing to register yourself as a voter. It is another thing to be an active voter, one who treats their local elections with the same significance that they apply to presidential elections. Despite the best efforts of grassroots activists and celebrity-laden voting campaigns, discrepancies in voter turnout rates still loom large.
Look no further than the 2020 election cycle. During the 2020 presidential election, Connecticut had a turnout rate of 74.29 percent, in line with other state and national averages, according to States United Democracy Center. However, the 2020 primary turnout rate was 51.84 percent, a sizable decrease from the presidential turnout.
Despite this seemingly seismic drop, it is only the tip of the iceberg in our nation's apparent disregard for local and primary elections. Other states, such as Florida (77% presidential turnout rate, 28% primary turnout rate) and Minnesota (80% versus 22%) saw far more precipitous drops, and most pundits anticipate a similar divide in the coming elections.
Yet a silver lining does exist. Historically, the older the voter, the more likely they are to vote, both in primary and presidential elections. The youth voter, typically defined by individuals aged 18-29, has consistently shown an apathetic attitude towards voting, despite this age range often being at the forefront of social and political activist groups. However, the youth voter defied expectations during the 2020 election, according to the Center for Information & Research on Civic Learning and Engagement (CIRCLE).
"We estimate that 50% of young people, ages 18-29, voted in the 2020 presidential election, a remarkable 11-point increase from 2016 (39%) and likely one of the highest rates of youth electoral participation since the voting age was lowered to 18," CIRCLE reported.
There are a multitude of factors that may have contributed to the boom in the youth voter turnout. Whether it be the melding of politics with modern popular culture or the prevalence of social and political organizations across the nation's high schools and collegiate universities, this turnout has been decades in the works. However, one of the most likely answers would be the expanded avenues of voting available to the general public, particularly in the wake of the COVID-19 pandemic.
"On average, youth voter turnout was highest (57%), and had the largest increases over 2016, in states that automatically mailed ballots to voters," CIRCLE wrote. "States with the most restrictive vote-by-mail laws, conversely, had the lowest youth turnout: an average of 42%. As some states consider whether to keep some of the changes to ease mail-in voting that they made in 2020…lawmakers would do well to keep in mind the positive correlation between these policies and young people's voter participation."
No matter your age or voting experience, passion for politics or lack thereof, be sure to get out and vote on Election Day. From the Connecticut Secretary of State's Office to the Town of Manchester's Registrars of Voters, resources and answers are available. Your vote, and your voice, matters.