The Great Northwest Faerie Trail 2022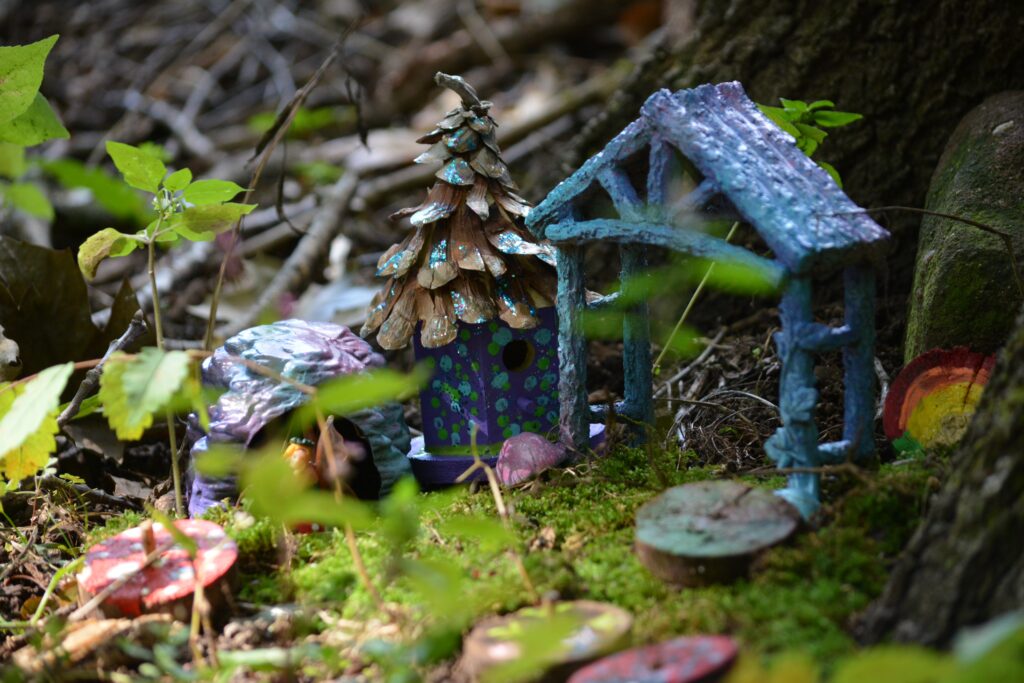 The "Fantastical Faeries" exhibit currently on display at The Tiny Gallery @ Northwest Park is a wonderful way to begin your journey to The Great Northwest Faerie Trail.  Artist, designer, and all-around creative beyond imagination, The Tiny Gallery is pleased to present the works of Kli Mawson. Faeries and dragons have been a part of legends, folklore, and mythology as far back as anyone can remember. You are invited to enter, explore and enjoy, step back from the craziness of the day – The Great Northwest Faerie Trail.
Stimulating the imagination of a child and prompting creative thinking may lead to magical portals where only faeries may travel.  A place where there are no bad dreams, wishes are granted for good behavior and lost teeth are exchanged for small rewards. Faerie Doors may be found most anywhere but recently have been discovered along a trail that loops behind a butterfly garden, along the edge of a pond, and deep into the woods where turtles sunbathe on fallen logs in a bog in Northwest Park. No one knows how long the faeries will call this place home but hoping they stay through the Autumn until Winter snow falls and send them to hibernate in places toasty and warm.
As you hike the Great Northwest Faerie Trail, take a moment to just be in the moment and take a look around. The smallest details become spectacular, listen to the wind and dance with the leaves, and you just may encounter a faerie or two. Remember always to be kind to people you meet, respect the places you travel, and wish for the best for all things living.
The Great Northwest Faerie Trail will open for the season Wed Sept 21, 2022, @ 4:30pm.
Special Thanks to All Our Faerie Trail Artists
The Anastas Family – 75 Butterfly Boulevard
The Believers – Dreamer Door
I sat upon the river bed
Knowing fairies would fly overhead
Love and beauty is all around me
The sights are believable and are really here for us
Believers to see
UR Community Cares – UR Tea Community
Be someone's Tea Friend! Our tea world is filled with magic, our tea fairies sprinkle magic in each cup to heal your worries and fears. "UR My Bes-TEA" says our fairies when they deliver your tasty tea.
 Iris Carde – Dog House
Where fairies get their pet food and treats or adopt their new pet family member.
 Margie – 11 Imaginary Lane
As you see the Special Door open…you will see inspiration & imagination come to life through one's eye…
 Louise Michaude