Marcy MacDonald: Swimming For Hope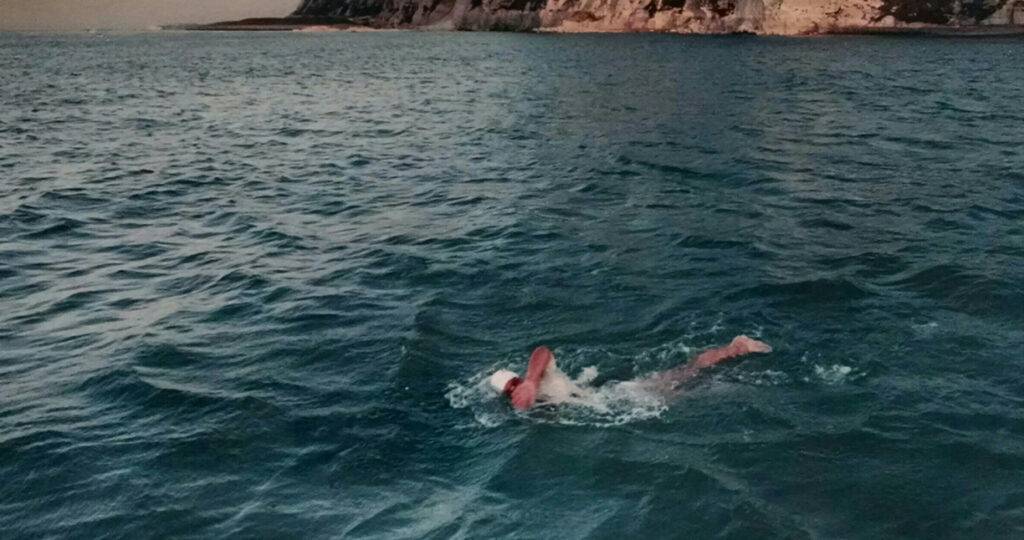 54 miles of open water. 38 hours and 20 minutes of marathon swimming, several hours of which consisted of swimming in place due to the strength of the ocean's tides. For many, the sheer thought of this journey is unbelievable, unfathomable even. But for Manchester native Dr. Marcella "Marcy" MacDonald, this was the next step in a lifelong journey, as she became the first person in the world to swim from the United Kingdom to Belgium.
In honor of MacDonald's achievement, the Department of Leisure, Family and Recreation will host the Dr. Marcella "Marcy" MacDonald Reception and Talk on Friday, October 7 from 6:00 PM – 8:00 PM at the Galleries at WorkSpace, 903 Main Street. The reception, which is in the spirit of the 50th anniversary of the historic Title IX, will allow attendees to hear the firsthand account of MacDonald's journey and what it takes to accomplish such an athletic triumph.
MacDonald's journey, which took her from Ramsgate, England to De Panne, Belgium, is only the latest in a career full of historic firsts for the internationally-renowned swimmer. Through all the overnight swims drudging through vast, open sea, MacDonald has held a drive and patience comparable to only that of the legends of Jordan, Ali or Williams.
"It's muscle memory. I just keep swimming," MacDonald thought, a litany of sorts that helped to push herself through the hardships, both physical and mental, that came her way. "Left, Right, the mantra continues, every cut brings the swimmer closer to transform the dream into reality."
MacDonald, who attended Verplanck Elementary School and Bennett Jr. High, graduated as an All-Conference swimmer & All-State softball player from Manchester High School in 1981. After graduating from the American International College with a degree in biology & from the New York College of Podiatric Medicine with a Doctoral of Podiatric Medicine, MacDonald launched into a long-tenured career in professional podiatry.
Alongside her boundary-breaking trek from the UK to Belgium, which concluded this past August, MacDonald also made history in 2001 as the first American woman to swim a double-crossing of the English Channel. MacDonald has done so all while commemorating the simple traditions of the sport ("Swimming in the purest form: one bathing suit, cap and goggles," MacDonald wrote in her bio), further emphasizing the dedication that MacDonald has for each of her marathon swims.
This "purest form" of swimming has been a constant for MacDonald, powering her to become the first American to make the 12-hour swim across the frigid Loch Ness. The international swim community has immortalized MacDonald through her 2006 induction into the International Marathon Swimming Hall of Fame and her 2019 induction into the International Swimming Hall of Fame: Fort Lauderdale.
Yet MacDonald is not defined by her achievements. Through her myriad of records, world firsts and captivating stories, MacDonald has held a straightforward yet ever so needed message: one of hope. MacDonald proclaimed her journey as her "Swim 4 Hope," a proclamation that aimed to center her drive and reinforce why she began her marathon swim in the first place.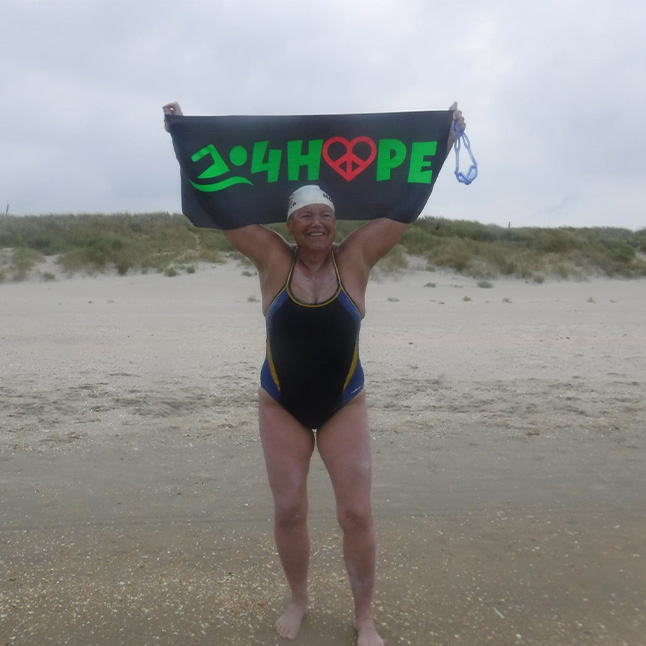 "I hope to make this crossing, but if I don't, I will know I gave my all to the effort," MacDonald wrote in her blog, Cutting Water. "I hope we, the community of the World, can be kinder and humane to each other."
This message of inspiration is one that many have taken to heart, especially those right within Manchester. Much as the local community wishes to honor the achievements and spirit of MacDonald, so does MacDonald wish to give back to the town that helped to launch her career in swimming.
"I wish that I could do more for [Manchester]," MacDonald said. "I was so fortunate that my family set down roots there."
Manchester has certainly reciprocated this feeling of gratitude. In 2018, the West Side Pool was renamed the Marcy MacDonald Pool, honoring the work and dedication of one of the town's most storied natives. Growing up in Manchester, recreation and athletic opportunities were plentiful, MacDonald said, helping to lay the foundation for a successful future that may not have been available for past generations.
"My life isn't as hard as my grandparents' was. My life isn't nearly as hard as my parents was, either," MacDonald said. "I was born at the right time to [achieve what I have]."
One aspect that helped to level the playing field for MacDonald and future generations was Title IX, which is commemorating its 50th year of ratification in 2022. Title IX, which was enacted as part of the Education Amendments of 1972, prohibits discrimination on the basis of sex in schools or other education programs that receive funding from the federal government.
"Congress passed Title IX in response to the marked educational inequalities women faced prior to the 1970s. Before Title IX, women were often excluded from or had only limited access to educational programs," the United States Department of Justice wrote in a 2012 of equal access in education. "Once admitted to schools, women had less access to scholarships; were excluded from 'male' programs such as medicine; and faced more restrictive rules."
While there is no explicit mention of athletics in Title IX, the intrinsic link between education and athletics (particularly at the high school and collegiate level) has broadly covered these programs under its legislation. Title IX has greatly broadened not only the athletic opportunities for student athletes, but has created a legal backing to reinforce female athlete's ability to advocate for their equality.
However, despite formalized legislation and advocates such as ENOUGH and Know Your IX, inequities and discrimination have remained and, unfortunately, will likely remain between gendered sports for years to come. Whether due to bigoted notions of perceived gender differences or misconceptions of the economic value of women's' sports, inequities have been allowed to thrive across amateur and professional women's athletics. These inequalities are even more pronounced for LGBTQ+ athletes and athletes of color, who often must face discrimination from within their own athletic circles and from their very own peers.
"In the early 1920s, most women and girls were cast aside in sports arenas. Some states even outlawed girls' play in sports over the belief that they couldn't handle the physicality or stress of competitive sports," Winter Hawk of The Diamondback wrote. "At the time of [Title IX's] passage, one in 27 girls played sports in the U.S. By 2016, they represented one in every five girls. This year, the number rose to 3.4 million women in sports nationwide, but opportunities are still out of reach as transgender, nonbinary and cisgender women athletes demand equality."
Alongside the expansion of athletic opportunities, legislation such as Title IX has helped to better level a so-called "competitive limit" that existed between gendered athletics. MacDonald described how many female students in the years before her did not have an organized high school softball team, while their male counterparts would have the opportunity to compete on a high school or even collegiate level.
"I was fortunate that I got started at the right time. I almost walked right into it," MacDonald said. "[However], I was too naive to see that some of my struggles were because I was a woman."
For many, Marcy MacDonald is a reminder of what it takes to succeed: You have to dream. You have to prepare. And you have to believe.
"My parents used to say that if you like something and put the effort in, you can do it," MacDonald said.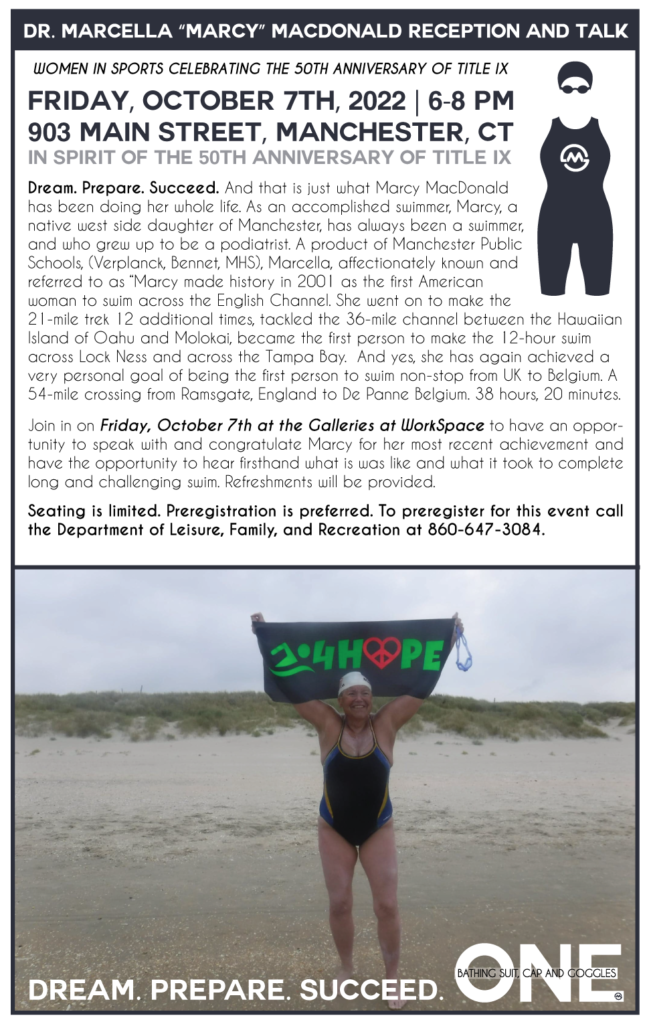 Seating is limited for the Dr. Marcella "Marcy" MacDonald Reception and Talk and preregistration is required. To register, please call the Department of Leisure, Family, and Recreation at (860)647-3084.