Camp Kennedy Prepares for 57th Year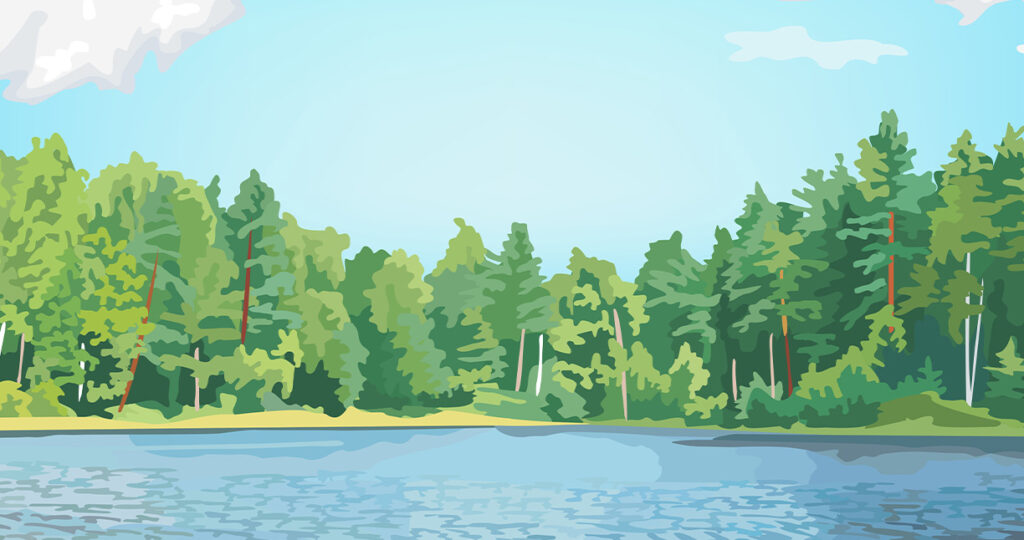 Camp Kennedy will be returning this summer for its 57th year to provide fun and recreation for its campers. Held this year from August 8-12, the day camp caters to adults with cognitive and developmental disabilities and has for many years brought them a week of fun activities and opportunities to meet old and new friends.
Since its founding, campers and staff alike have looked forward to this week as a high point of the summer, including James Przybylski, one of the Recreation Supervisors in charge of the Department of Leisure, Family, and Recreation's various camps.
"Camp Kennedy is great and I really look forward to it every year, especially this year after having undertaken the oversight of our traditional day camp program for the first time," Przybylski said. "After six weeks of day camp, Kennedy is a pretty welcome change of pace! It's a great opportunity to check in with some old friends and even for our staff to slow things down for a few days and enjoy the campers as well as one another."
During the week, the group of around 30 campers will enjoy arts and crafts, yard games, and swimming, along with off-site trips to go bowling, see the first run of a movie, and be in nature. The goal is to keep campers involved throughout the entire day with fun and engaging activities
Camp Kennedy was founded in 1964 through a $3000 grant from the Joseph P. Kennedy Jr. Foundation that was matched with funds from the Town of Manchester. The foundation, started in 1946 in honor of the eldest Kennedy brother who was killed during World War II, has since then, "supported the creation of programs to benefit people with Intellectual Disabilities, their families, and their communities." The initial funds purchased the land Camp Kennedy stands on, and built the pavilion and outbuilding still in use on the grounds.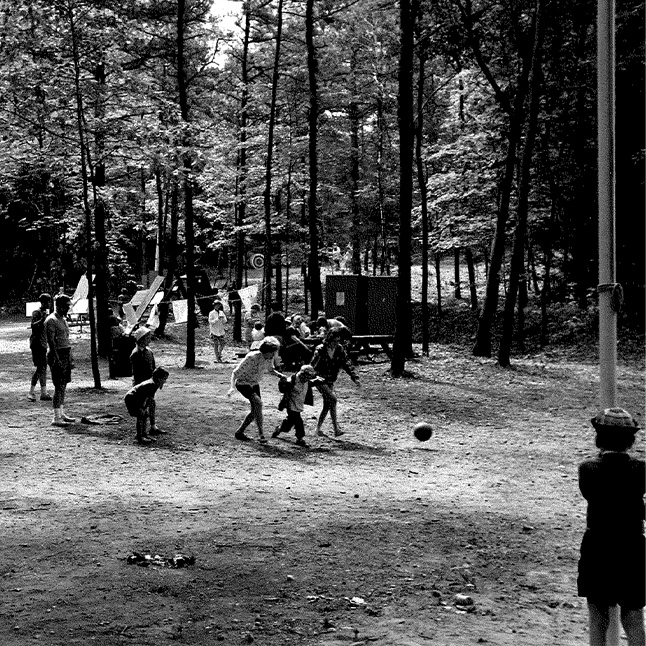 One of the driving forces behind this work for people with disabilities was Eunice Kennedy Shriver, who served as the foundation's executive vice president and corresponded over the years with staff from Camp Kennedy. In one letter from 2004 on Camp Kennedy's 40th anniversary, she wrote that her mother, "would be proud to know the enduring effect of this initial $3000 Kennedy Foundation grant!"
Camp Kennedy ran every year until the COVID-19 pandemic caused camps to be cancelled in 2020. Last year's camp session was impacted by COVID restrictions, and the staff at Camp Kennedy look forward to a more normal camp experience, with a broader range of activities and day trips possible.
"This year I feel like we are in a good enough place where we can once again offer off-site trips, gather indoors, and get out in the community more without the level of concern that loomed over everything the past couple of seasons," Przybylski said. "We have some fun trips planned, there will definitely be swimming and crafts, some cool specials coming to the camp site leading up to that end of summer send off."
This year will be Camp Kennedy's 57th season in 58 years. While things will be returning closer to normal this year, sadly it will also be the first without Bobby Phelps, a Manchester resident who had been going to Camp Kennedy since it opened in 1964. Phelps passed away this May at the age of 69.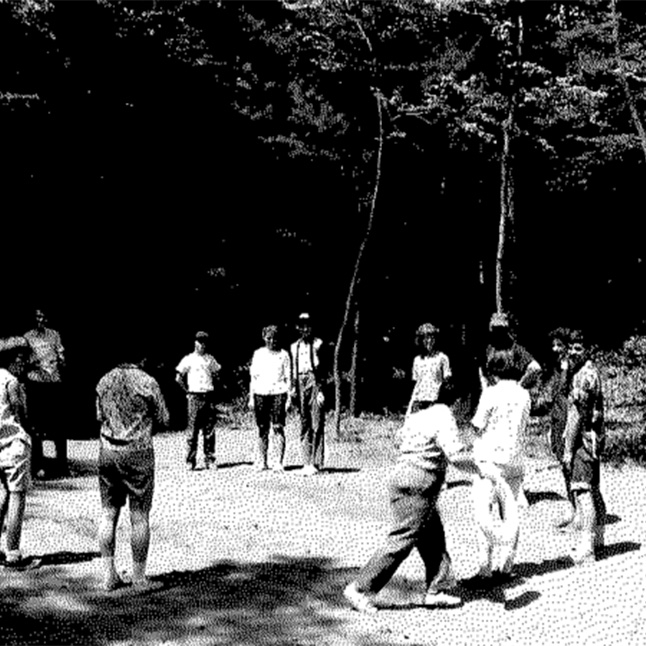 "In the 58 year history of Camp Kennedy this will be the first without Bobby, that's going to be a big change for all of us," Przybylski said. "I'm really looking forward to finding a way to incorporate his memory into what I think is going to be an awesome summer."
The camp has undergone other changes in the intervening decades since its founding. Initially a full 6-8 week summer session, Camp Kennedy now runs for a single week in August. And the camp has become rare in that it now caters to older individuals with disabilities, from the age of 21 to older active adults. And many of the campers, like Phelps, have going there for years and years—forming a core group of campers that have been returning for decades now. Przybylski this year has led a push to give individuals who have not been able to experience Camp Kennedy a chance to join the community that has formed.
"Our history of repeat campers is an amazing one but at the same time that means that fewer new people are able to join our crew and start their own tradition with us," Przybylski said. "This is really the first year that I have put an emphasis on getting new faces to camp with us, but I am really looking forward to exploring opportunities that will allow us to grow the program once again and allow us to accommodate anyone who is looking to get involved."
Camp Kennedy is many things for those connected to it. For campers, Camp Kennedy is a vacation—a chance to get out of the house that is not a doctor's appointment or a supervised day or work program. Campers get the chance to engage in a wide variety of fun activities and hang out with the friends they've made over the years at Camp Kennedy. For their families and caregivers, it is a break from the ordinary routine. Being a caregiver for person with disabilities can often be a 24-hour job, and Camp Kennedy provides them with a rest where they know their loved one will be taken care of and enjoying themselves. The significance of this cannot be overstated.
"Programs like Camp Kennedy are vitally important to both the disability community and the vast system of families and care providers that support the community," Przybylski said. "For participants, camp provides an opportunity to engage in recreation that is thoughtfully and intentionally designed to maximize the individual experience in their own terms. Camp Kennedy utilizes program spaces, staff, and partners that ensure an experience that is tailored and adapted to our campers needs rather than expecting individuals to come in and have to make changes to their normal daily living routine."
To that end, Camp Kennedy seeks to be as accommodating as possible to its campers. The fee for the week is $30, but Camp Kennedy doesn't turn away people because of an inability to pay. Activities like day trips are screened so that staff know that all the campers will be able to enjoy themselves.
"Something as simple as doing site visits at prospective trip locations ahead of the start of camp helps make sure nobody is excluded from an activity because of some unforeseen obstacle such as a steep staircase, a long walk over an uneven surface, or a venue that might be overwhelming to the senses," Przybylski said.  
The staff themselves play a big part in ensuring the success of Camp Kennedy and the well-being of its campers, and because of that, the standards are high. Przybylski himself had over ten years of experience working in the allied health field with individuals in recovery from things like serious acute neurological injuries, spinal cord injuries, and lower limb amputations before joining the Town of Manchester as a Recreation Supervisor.
"The biggest investment in making things accessible and accommodating though is definitely the staff," Przybylski said. "The people who work with the Camp Kennedy program really want to be there, many have been counselors in years past—simply put they know this might be the only vacation of the year for a lot of our folks and they are committed to making it special."
The Department of Leisure, Family, and Recreation is proud to continue the traditions and legacy of Camp Kennedy, with its commitment to bringing healthy and engaging recreation to all parts of our Manchester community. Camp Kennedy will continue to be a bright spot in the year for Manchester's disabled community with another great week planned this August.