Infant Formula Shortage Impacts Manchester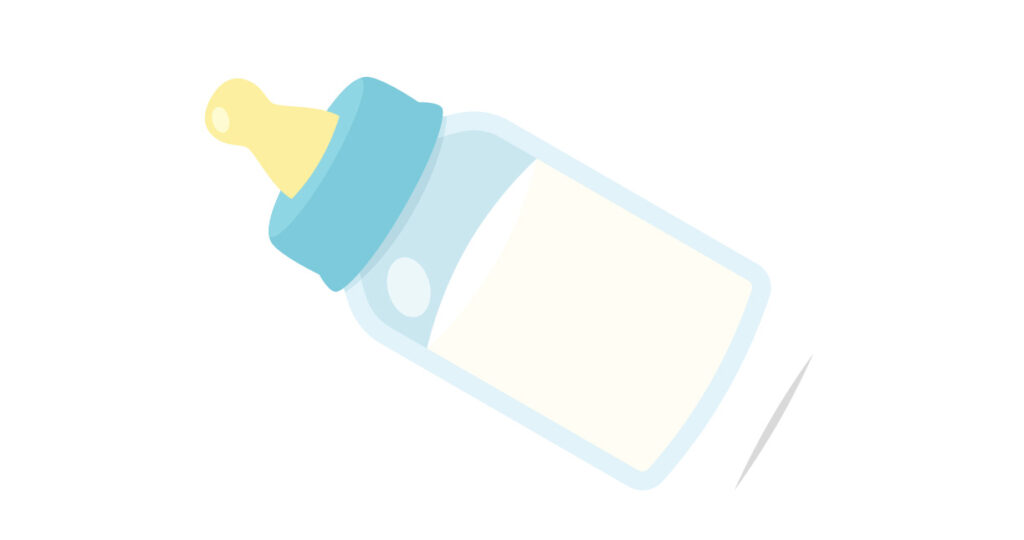 For the past few months, parents in Manchester and around the country have struggled to find formula to feed their infants. The recall of certain formulas made by Abbott Nutrition and the temporary closure of their Michigan plant have stretched supplies thin, particularly for specialty formulas for infants with dietary restrictions. This shortage can be seen in Manchester with retailers like CVS and Stop & Shop keeping their shelves bare and selling limited amounts of formula behind the counter, with restrictions on how much formula can be purchased at one time.
"I think it's similar to what you see in the news and across other communities. Connecticut is one of many states that's involved in the agreement with Abbott Industries, which is the provider of that infant formula," said Joel Cox, director of the Town's Human Services Administration. "They have several state and federal contracts to be the largest provider of that for WIC and other folks who receive state assistance. So I think we're in the same boat that you've seen across the country.
By late May, out-of-stock rates for infant formula surged up to 70% nationally, with Connecticut seeing rates slightly above the national average at 73%.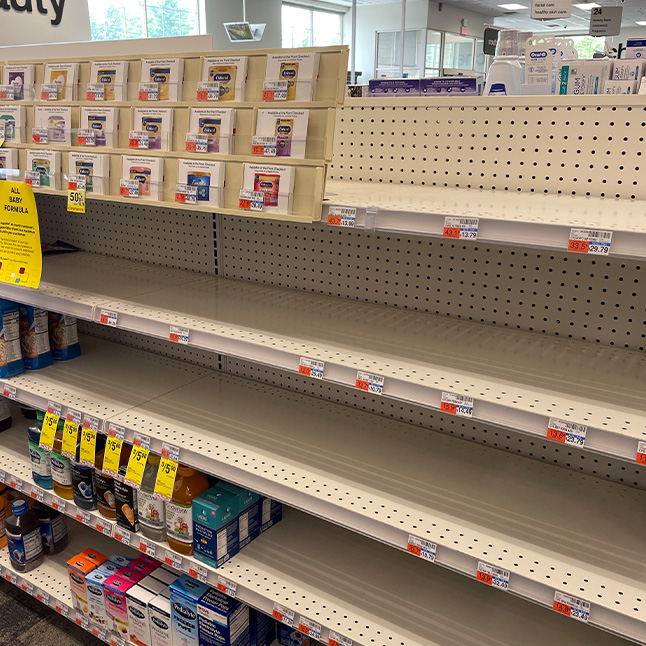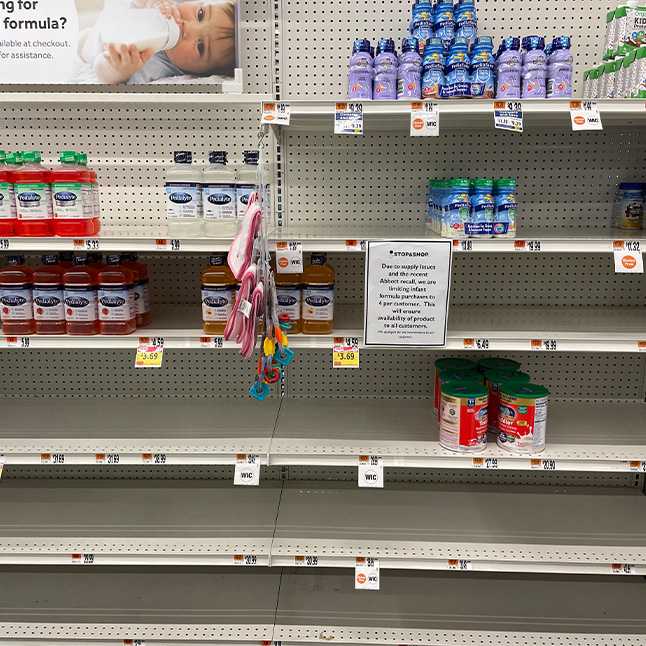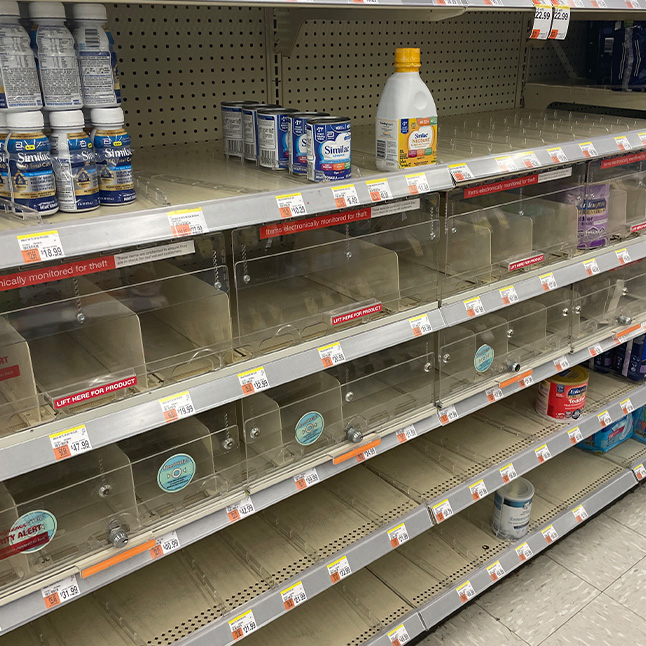 Shelves in Manchester are empty as stores move limited supplies behind counters and limit amounts that can be bought.
The most immediate cause of the shortage was the February closure of Abbott Nutrition's Sturgis, Michigan plant after two infants died and two more got sick from a bacterial disease while on formula produced at the plan. While it is not certain that the bacteria came from the plant, other sanitary conditions were found to be substandard by a Food and Drug Administration (FDA) inspection and production at the plant was halted. A recall was issued to certain lines, including Similac, Similac PM 60/40, Alimentum, and EleCare. More information on the recall can be found here.
Other factors explain why the closure of one plant have caused such widespread shortages. According to NPR, the infant formula market is highly concentrated and largely cut off from foreign competition. Abbott alone accounts for 48% of the infant formula. Combined with Nestle USA, Perrigo, and Mead Johnson Nutrition, these four companies make up around 90% of the market. Barriers in the form of high tariffs and FDA nutritional and labeling regulations prevent infant formula produced abroad from being widely available, meaning that around 98% of formula used within the United States is produced within the country. These restrictions have been lessened by the FDA in response to the shortage.
The national scale of this shortage has hampered any local or regional efforts to deal with the shortage, with stocks of formula simply just not available.
"The reality is the supply chain is the supply chain, and there was no access to additional resources or other formula that were stockpiled anywhere," Cox said. "So the problem certainly is there. We've heard about it, you can see it on social media, but we just haven't been able to offer a great response because we don't have access to the resources. And that's similar across the state."
Connecticut is one of many states that has a contract with Abbott to supply infant formula to families that rely on the Special Supplemental Nutrition Program for Women, Infants, and Children, or WIC. According to Cox, 44,000 families in the state rely on WIC to purchase the infant formula they need. In response to the shortage, waivers were issued in early May to allow WIC families to purchase certain infant formulas not made by Abbott, with families in Manchester notified through the Town's communications office. While opening up access to additional resources can never hurt, the benefits of the expansion of product eligibility for WIC have often been limited.
"Really there's no mechanism that I'm aware of to sort of track, but what I've heard, again anecdotally, is that it has helped minimally because there are some pretty specialized formulas that folks were after," Cox said. "And those are really what I've heard are the hardest ones to get because they're not as abundant in supply even on a good day as some of the other formulas. And then when part of that pool of supplies from Abbott was gone, it really stretched the other sources pretty thin."
The state's Department of Public Health recommends parents looking to find formula visit multiple stores frequently, buying formula online if their budget allows, and checking social media groups dedicated to infant formula for locations on where it is in stock. They also suggest contacting local WIC offices as well as the child's pediatrician for suggestions on where to find formula. WIC also encourages breastfeeding if possible and local WIC offices have resources to aid parents seeking to do so, although that is not without trouble.
"It's also a big ask on a parent who, that was not their intention or that's just not physically possible for one reason or another for them," Cox said.
The shortage has also impacted community and regional partners and food banks that the Department of Human Services works with.
"More often than not, infant formula, things like that, aren't the things that are primarily stocked at food pantry locations…so I can imagine they didn't have shelves and shelves and shelves of it," Cox said. "And on a regional level, Foodshare, along time ago they had had some stocks of formula and things that they had depleted. They're the primary food distributor to food banks in the area, and they didn't have any at all from what I'm told. It's just not something that they stock and something they distribute."
According to Cox, MACC's foodbank has seen increased requests for formula and has been able to distribute limited stocks to families in need through donations from their partners and community members. MACC is still accepting donations of formula from those who have extra to spare.
"I think it really was enlightening from an infrastructure point of view in terms of being able to meet the needs of folks who are food insecure for their infants in a crisis like this," Cox said. "I don't think the system Is necessarily equipped to respond with that sort of emergency, so hopefully we see some positive changes in terms of how we better equip ourselves and prepare ourselves for something like this in the future."
Cox said the focus now is dealing with the immediate impact of the shortage, but once it is over he expects discussions on how a crisis like this can be better weathered.
"It's certainly going to be a conversation I have with our local partners like MACC and the other food pantries, and Foodshare and our local Health Department to discuss the potential for creating some resources should we face another emergency like that," Cox said.  "Because it's clear that we have to have some mechanism to be able to respond. Hopefully we don't face another incident where one of the biggest producers and contractors has an issue with entire lines of their product, but we have to prepared either way."
There are signs of hope, and the situation should be improving in the coming weeks and months. President Biden invoked the Defense Production Act on May 18th to increase formula production and give producers greater access to resources they need. With the FDA easing restrictions on foreign infant formula, the White House launched "Operation Fly Formula," to fly infant formula into the country. According to CNN, the first few shipments brought almost 1 million pounds of powdered formula into the country. While that amount is what is usually purchased in the United States over two days, it "is a jump start to easing the shortage," and more flights are planned. Meanwhile, foreign producers are working with the FDA to begin exporting to the United States.
On June 4th, the Abbot plant in Sturgis, Michigan reopened after improvements made in the wake of the FDA's inspection. The production of EleCare, a specialty formula for infants with allergies, will be prioritized and the company expects to be able to release EleCare formula to consumers around June 20th, although The Washington Post notes, "it could take weeks for the formula made in Sturgis to fully reach shelves because of the time required for the formula to be dried and safety tested." Increased production of SImilac lines will follow.
In the meantime, families must continue to search as best they can for formula, whether through multiple stores or scouring social media.
"It's one of those things that, even with all the best intentions and an unlimited credit card, if the supply is just not there, it's hard to offer any sort of response, at least as a municipal agency."