Culture Lab: Looking Ahead to 2022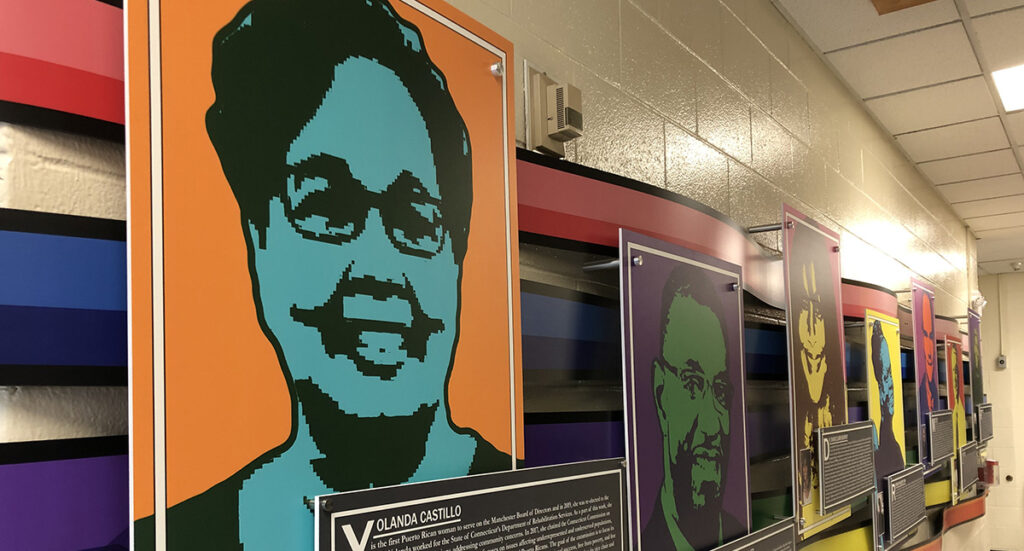 From the Community Y to Northwest Park, the Eastside Neighborhood Resource Center to Charter Oak Park, the Town of Manchester is filled with public parks & recreation centers for the entire community to enjoy.
Alongside these staples of the Manchester community is the Mahoney Center, located at 110 Cedar Street. With three programming floors housing a variety of activities, from more traditional recreation programs such as drop-in basketball to contemporary offerings such as restorative yoga and video game tournaments, the Center aims to provide a relevant and culturally-appropriate programming slate for all. This mission is highlighted by the expansion of one of the town's newest centers: the Culture Lab.
The Culture Lab, located on the 3rd Floor of the Mahoney Center, serves as a multifaceted community center with the specific long-term goal of allowing Manchester to become a more welcoming, inclusive, and equitable place for all. In order to fulfill these goals, the Culture Lab will offer:
Culturally-inclusive programming, coordinated both by the Town of Manchester's Neighborhoods & Families Division and external partner organizations.
Meeting spaces for grassroots organizations; permitting forms can be submitted
Art exhibits created by local artists. The current gallery, Conscious Evolution, documented Manchester throughout the COVID-19 pandemic and captured its response in such an uncertain time.


The Culture Lab also houses the Luminaries of Change Living Art Exhibit. Crafted in 2021, the Luminaries of Change celebrates local trailblazers and community leaders and the role they carried in creating social change in Manchester. With members including political leaders, community activists, and Manchester Public Schools pioneers, the Luminaries of Change remembers Manchester's storied past while looking towards future advancements.
In addition to in-person programming, the Culture Lab will offer a variety of digital content & resources through Better Manchester Magazine's Perspectives in Righting. Perspectives in Righting is a digital space dedicated to exploring topics such as diversity, equity & inclusion. For community members who wish to submit content, please contact Better Manchester via email.
The current monthly featured content for Perspectives is as follows:
January: Looking Ahead to 2022
February: Black History Month
March: Women's History Month / Trans Day of Visibility
April: Sexual Assault Awareness Month
May: AAPI Heritage Month
June: Juneteenth / LGBT+ Pride Month
July Social Justice Month
August: Disparities in Education
September: Latin Heritage Month / Suicide Prevention Week
October: National Disability Employment Month / LGBT+ History Month
November: Indigenous Peoples Month
December: 2022: A Time for Reflection

In addition to monthly digital content, the Culture Lab will also host in-person programming throughout the year. The current programming schedule for the current winter/spring season includes:
Manchester Makes Meals (3rd Thursday of the Month, January-March, 6-7:30 PM)

Let's get down to sharing our roots by exploring our cultural food and farming heritage. This unique series will spotlight the culinary stylings of three different home cooks.

Black History Month Author Talk: Robert Harris (February 2, 5:30-6:30 PM)

Author Robert Harris will give a free talk about his book, Historical Moments: Military Contributions of African Americans, with a Q&A to follow.

Black History Month Celebration (February 18, 6-9 PM)

Come enjoy a night full of celebration, including special speakers, performances, food, and children's activities. Let's honor & celebrate Black History together as a community.

Paint & Vent (March 18, 7-8:30 PM)

This women's-only event includes an instructor-led paint class that allows the opportunity to reflect on Women's History Month. This interactive class is a safe space for women to express themselves and their creativity.

Manchester Makes Meals: Community Cookbook (April 14, 6-7:30 PM)

Come be a part of our town's culinary time capsule & let's get cooking! During this session, participants will have the opportunity to bring in their own recipes inspired by their heritage that will be compiled to form the first-ever Manchester Makes Meals: Community Cookbook.

Things That Make You Happy Art Exhibit (April 22, 6-8 PM)

Come enjoy works created by Manchester's very own young artists, all centered on the theme of "Things That Make You Happy." From paintings to sculptures, drawings to crafts, come experience some of the creative works of local K-8 students. Light refreshments will be provided.

For those interesting in receiving a monthly newsletter from the Culture Lab, please visit the Culture Lab Newsletter registration form. The newsletter will highlight upcoming programs, digital content & resources from partner organizations.
Most importantly, the Culture Lab at Mahoney Center is a space for the entire Manchester community. Culture Lab programming and Perspectives in Righting content is to be reflective of the Manchester community and its wants, needs & desires. If you have any questions or comments, please contact the Culture Lab.