Preparing for Winter, Planning for Spring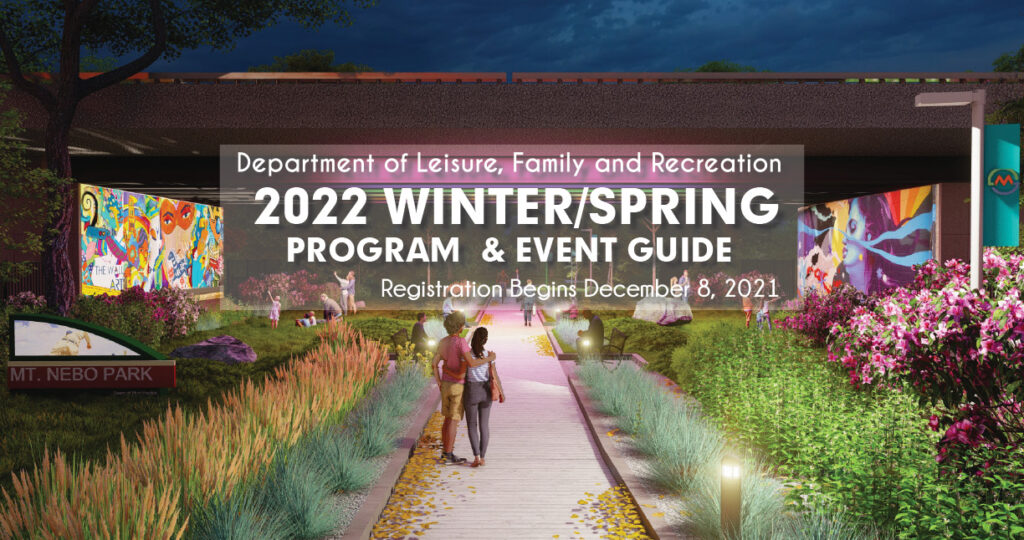 With colder weather coming, there's the temptation to stay inside your house, but the Town of Manchester's Department of Leisure, Family, and Recreation has the solution. Throughout this winter and spring, the Department has many exciting events and programs planned for the entire Manchester community.
Please visit the Winter/Spring 2022 Program and Event Guide for the full list of activities being offered by the Town, as well as more information on registration, policies, and facilities. Registration for Manchester residents begins December 8th (December 10th for non-residents) and can be done online, over the phone at (860)647-3084, or in person at the Community Y.
The Main and IOH Pools at Manchester High School will remain open through the winter and spring, with plenty of swimming lessons, open swim hours, and classes to keep you in the pool. Swimming lessons catered to all age groups, from infants to adults, will be offered, as well as times for adult lap swim. Swim for Fitness, Swim for Life will get you able to swim 30 consecutive laps by the end of class, while Total Aqua at the IOH Pool will combine cardio and strength in the pool for a full-body workout. Certification courses for lifeguards and water safety instructors will be offered.
The Department is offering many adult fitness classes to keep you active over the winter, from pickleball at Nathan Hale to Zumba at the Movement Lab at Mahoney. At the Community Y, yoga classes of varying intensities will be offered, along with tap dancing, barre, and personal training. Total Body Plus will use resistance exercises to increase strength, endurance, and core conditioning, while High-Intensity Interval Training combines high- and low-intensity training for a great cardio workout.
The Leisure Labs at Mahoney Center will be offering a wide array of family-friendly activities, including indoor tennis and jazz dancing. Radical Reptiles and More will see reptiles and spiders come to the Labs for an interactive and educational experience, while January 8th will feature a candle-making workshop that will see you leave with two of your own handmade candles.
On March 16th, the Leisure Labs will host a free Career Fair to learn about job opportunities within the Department of Leisure, Family, and Recreation. Come learn about openings for lifeguards, camp counselors, recreation leaders, and more, with a free resume building and writing lab included.
The Culture Labs at Mahoney Center will be celebrating Black History Month with a lecture by Robert Harris, author of Historical Moments: Military Contributions of African Americans, as well additional programs and resources for the entire community. Once a month from January to March, Manchester Makes Meals will see a different home cook who recently immigrated to the United States showcase the culinary stylings of their home country, while in April the first Manchester Community Cookbook will be compiled. With more events like art exhibits and a women's-only painting event, there will be plenty to do at the Culture Labs this winter and spring.
There will be many early childhood programs to give opportunities for young kids to meet and play. Partners in Play provides a space to discover learning through music, movement, and arts and crafts tailored to specific age groups, while Cradle to Crayons will support the development of skills for success in pre-school and kindergarten. This winter, Start Smart basketball will teach young children the basics of the game before warmer weather comes and Start Smart Baseball takes over.
The Youth Service Bureau will be busy all season with programs for older kids and teens, such as Journey, a service-learning program with an emphasis on environmental education, leadership, and woodworking training, and Intro to Pottery Making. PFLAG will continue to host virtual LGBTQ+ youth groups and parent/ally support groups, while Mind Over Matter features activities geared toward fitness, and mental, emotional, and social wellbeing. The Mother-Daughter Circle is a group for promoting a healthy bond between mothers and their daughters, while Boys Council and Boys to Men supports young men moving toward adulthood through discussion and mentorship.
During school vacations, this winter and spring, the Department of Family, Leisure, and Recreation have fun ways to make use of the downtime, such as a basketball tournament during President's Day Recess and a visit to the New Britain Museum of American Art during Spring Vacation. So, when there's a day off school coming up, check out the program guide for great activities to take advantage of.
On February 12th, join us for an indoor Spruce Street Farmer's Market at the Nathan Hale Activity Center, featuring local farmers and artisans. Across the street, at the Spruce Street Community Gardens, come for some hands-on gardening events and tutorials throughout the season to get your garden growing healthy and early this spring.
For seniors, the Senior Center has many activities and events planned for winter and spring. On the more active side, there will be a wide variety of offerings, such as tai chi, yoga, Zumba, and strength training, as well as a walking group and the Biking/Hiking Club. For those looking for more leisurely activities, the Senior Center offers games like dominoes, mahjongg, billiards, and ping pong. Creative outlets will be offered as well, with opportunities to do ceramics, quilting, woodworking, and painting. For details on the Senior Center's full slate of upcoming programming and their monthly newsletter, visit their website here or call (860)647-3211 for more information
As always, Better Manchester will provide town updates and bimonthly featured stories about developments and issues important to our town, while the Perspectives in Righting section remains an advocate for diversity, equity, and inclusion in Manchester and beyond. There is also a space for you—Community Voices—where residents can make their voices heard. Check out Better Manchester and keep informed on all the things going on in our town!
For more information and the full listing of programs, visit the Winter/Spring Program and Event Guide. As winter comes and turns into spring, the Department of Leisure, Family, and Recreation is eager to offer these programs and events to the Manchester community. With colder and shorter days, it's important to stay active and involved, and we hope that you come out and join us for great winter and spring.