Manchester Prepares a Master Plan for the Future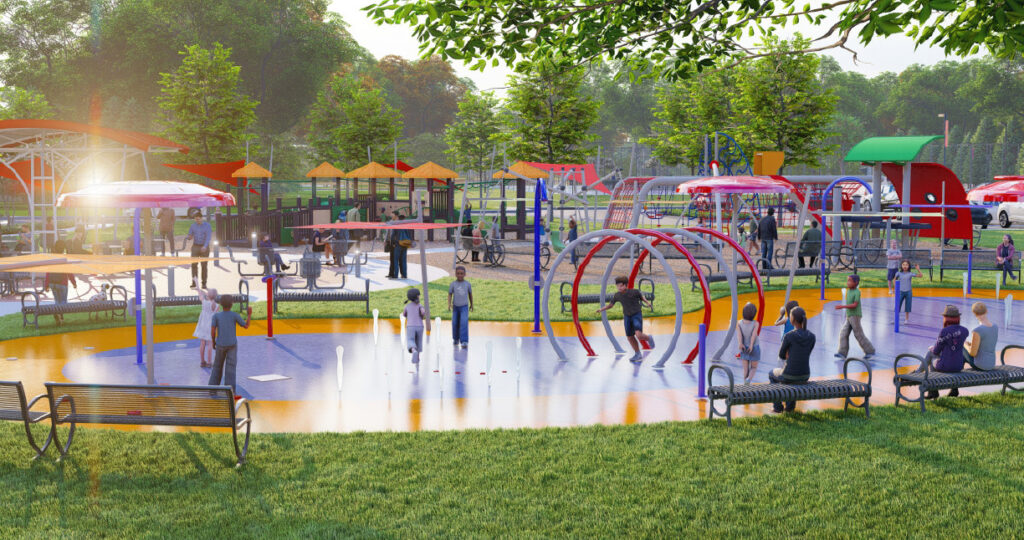 With the numerous challenges facing the world in the present moment, it is difficult to even begin to imagine what the future will look like, let alone plan for it. While present challenges deserve attention, envisioning the future and taking steps toward that vision is essential to maintaining hope and building a better community for future generations. Part of this task includes asking how our community can ensure these visions successfully come to life?
One key element in developing proposals for tomorrow and years down the road is community engagement and support. After all, the Town is meant to serve its residents and what better way to serve than by reaching out and understanding community needs.
This exact sentiment is what motivated the Town of Manchester to develop and implement the new Parks & Facilities Master Plan, which is designed to be fully collaborative and community-supported. The Master Plan outlines how to further develop future parks, trails, open space, and recreational areas so as to meet the needs of the community while also investing in the town's economic and cultural value. Thanks to its method of engagement, the Master Plan is entirely reflective of the community's vision of the future.
Director of the Department of Recreation, Family, and Leisure Chris Silver explains:
"We are embarking on working with a consulting group to create a plan for our parks and public spaces for the future, whether that is tomorrow or 20 years down the road. We want to create a community that is more equitable and accessible than what we have now. So representative engagement is especially important."
In essence, the Master Plan lays out a clear vision of the goals, policies, and objectives that will help the Town to position itself well for funding and investment comparative. The Plan gives direction to Town boards, commissions, and staff on how to go about developing, re-developing, expanding, and enhancing Manchester's parks and recreation facilities. The plan will guide the decisions and priorities of the Town in regards to parks and facilities for the next fifteen years or more.
While the Master Plan presents a concept of future plans, it is not a guarantee that there will be funding or implementation. Instead, it prepares the Town well for when opportunities arise for future planning, ensuring that the community is "shovel ready."
This booklet breaks down the extensive and detailed Master Plan developed by the Town in consultation with BerryDunn, an experienced consulting firm. Not all details, facts, and figures are included in this booklet. If you would like to learn more or would like to refer to specific data, you can find the complete Master Plan by visiting YourVoiceMattersManchester.
Exhibit Information
Following the recent completion of the plan, organizers are moving into the next phase of communicating the plan to Manchester residents. The Town will be hosting a pop-up exhibit to introduce the plan through stunning visuals accompanied by informational narratives held at Work_Space beginning Monday, October 25. The exhibit will open with a lunchtime reception starting at 11:30 AM. The Our Parks, Our Vision, Our Future exhibit will include a two dimensional tour of the following parks: Charter Oak Park (West), Mt. Nebo, Globe Hollow Swimming Area, Case Mountain, West Side Recreation Area, Northwest Park, Nike Site, Center Springs and Robertson Park, as well as an extensive look at trail enhancements and connectivity throughout town. Those attending the exhibit will get an inside look at what our parks and recreation facilities can be as we consider the future.
The pop-up art exhibit will run Monday, October 25- Friday October 29 and is open to the public at Work_Space, located at 901 Main Street. The exhibit will be open on Monday and Thursday, 10:00 a.m.-8:00 p.m. and Tuesday, Wednesday and Friday from 10:00 a.m.-4:00 p.m.

For more information on the exhibit, please contact 860-647-3084.
Introduction
 In the execution of the Master Plan, BerryDunn reviewed the Town of Manchester's demographic and income profile and collected community input through a variety of engagement techniques over the course of three months. The participation in the community engagement aspect of the Plan accurately reflects the make-up of the community. The Town emphasized the importance of developing a plan that is more accessible and representative of a diverse community.
The Town's recent declaration of racism as a public health crisis informed the steps taken by the Town and BerryDunn throughout the creation of the Master Plan. The Plan's commitment to DEI involves a prioritization of equity so that all community members have access to what they need to be accessible and inclusion so that all community members feel they can access these services.
In addition, BerryDunn analyzed current recreation programs, trails and connectivity, recreation trends, and parks and facilities to determine where the Town is currently succeeding and where there are gaps in service.
With a great deal of Town staff input, the consulting team created the Master Plan, which is divided into five chapters:
Introduction
Community Engagement
Analysis
Planning
Plan Implementation
The key themes drawn from the data of the needs assessment survey are that Manchester is and should continue to be: dynamic, thriving, connected, and sustainable. Please refer to page 10 of the Master Plan for a more detailed description of these key themes.
Community Engagement and Analysis
 BerryDunn reviewed several key socioeconomic indicators in relation to providing park and recreation services. These demographic trends can inform the vision for future program growth and development. To view the trends collected by BerryDunn please begin reading on page 13 of the Master Plan.
In addition to data collection and analysis, BerryDunn also conducted 24 diverse focus groups which directed attention to strengths, challenges, and focus areas.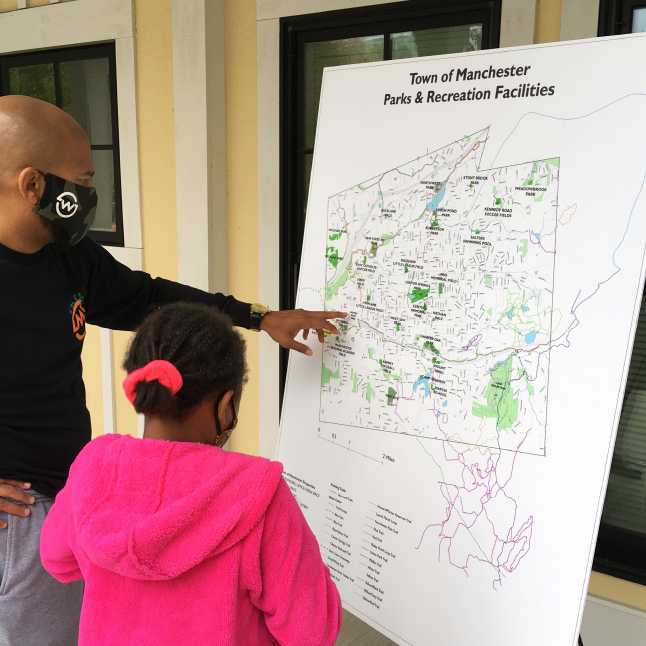 These community engagement methods in addition to a virtual town hall and a statistically valid Needs Assessment Survey, BerryDunn was able to draw a wide range of results. Please see page 44.
The community engagement research in addition to analysis the Department of Leisure, Family, and Recreation's program and event catalogs allowed for BerryDunn to assess the recreation programs and services offered by the Town. This analysis offers a detailed insight into the Town's recreation program offerings and helps to identify the strengths, weaknesses, program categories, and opportunities for future program direction. To read the complete analysis please see page 49-195 of the Master Plan, which includes detailed analyses of all parks and facilities, including indoor areas, trails, and pools.
Planning
At the core of the Master Plan are the recommendations for system-wide improvements along with more specific recommendations for existing park sites. These suggestions provide direction for how the Town can develop, program, and manage the park and recreation system to better meet community needs. You will notice that each specific park recommendation has been labeled by a phrase, highlighting the major objectives of its planning. To see sketches and photographs of recommended improvements please see page 201 to page 238.
Northwest Park: "Flexibility for the Future"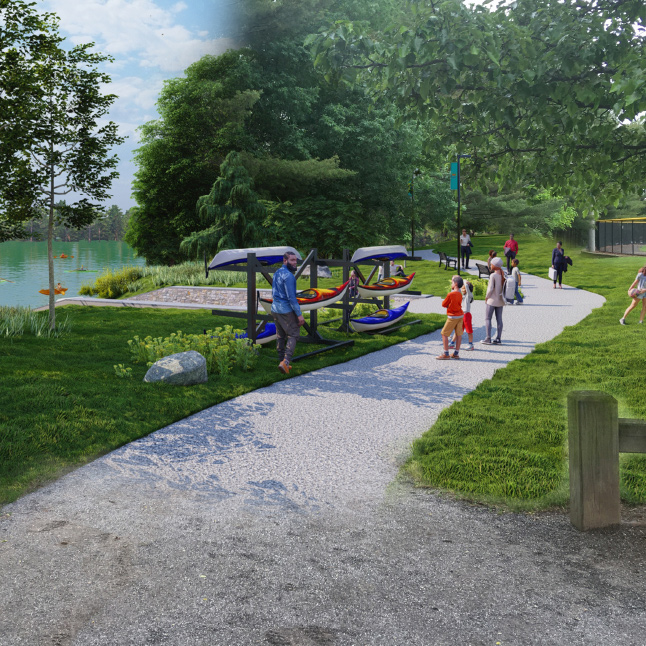 As one of the largest and most popular parks in Town, Northwest Park started out as a park dedicated to baseball and has evolved and adapted over time to meet the needs of the community. The future vision of this park is centered on flexibility. Projected improvements explore waterfront connections and expand active recreation, while preserving the ability to adapt. Among renovations and upgrades to existing spaces, specific recommended improvements include adding a bridge connection to provide pedestrian access from Union Pond Park and construction of a boat launch for access to water for kayaking, canoeing, and paddle boarding. Other improvements include building eight new Pickleball courts and constructing a new, exciting play complex.
Robertson Park/Union Pond Park: "A New Vision for the North End"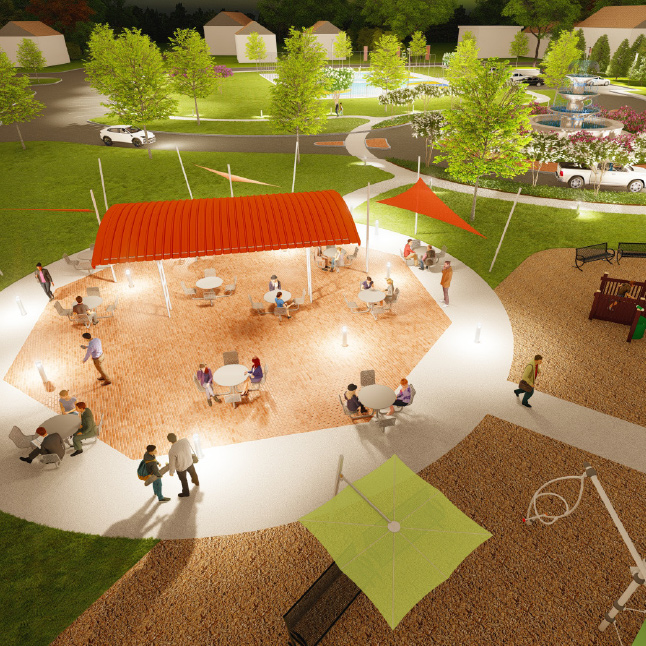 Close to the Community Y and home to a brand new regulation size cricket field, the North End recreation area is a popular place full of potential. The vision for Robertson/Union Pond Park reimagines this park as a community asset for the entire Town. As the current recreation facilities are aged and past their prime, implementation of new park amenities should be to the most current and state-of-the-art standards. Park-specific improvements identified in the concept plan include the construction of a new community center building on the corner of North Main Street and North School Street. This center could potentially include health and wellness programs, library services, and programming for both seniors and youth. Recommendations also include renovations and reconfigurations of spots for pedestrian travel. In addition to a new community center, the plan recommends a new creation complex that includes a covered, open pavilion, benches, tables, grills, sprayground, and play equipment for all ages. With the addition of four new Pickleball courts, two tennis courts, and two basketball courts, the concept plan would transform Robertson Park into a 'one-stop shop' for all recreation needs.
West Side Recreation Area: "Revitalization Through Art"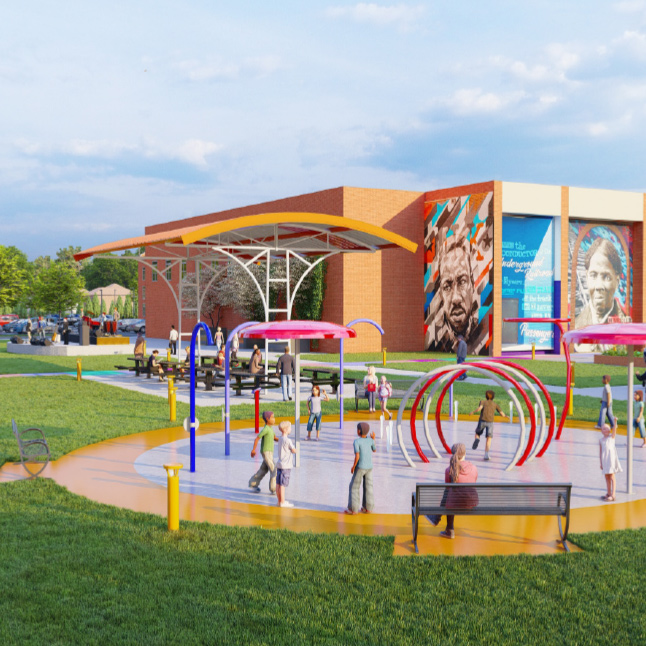 The West Side Recreation Area comprises an entire block nestled in the fabric of a residential community. Currently, the Mahoney Recreation Center is located in the main building, formerly Washington Elementary School. Many new changes can already be seen at Mahoney Center as the Town has completed interior renovations, the addition of new murals on the building exterior, and the installation of the Luminaries of Change Exhibit on the third floor. The vision for this park revitalization project is to develop the site in a way representative of the neighborhood and culture in a creative, vibrant, and artful manner, creating an indoor-outdoor relationship between the building and park site. Park-specific improvements identified in the concept plan include the construction of a plaza at a new building entrance, ideal for outdoor performances and movies as well as the installation of new basketball courts, a 5×5 mini-pitch field, and a new play complex that includes a covered, open pavilion. The concept plan also includes the addition of a small pavilion, tables, new planting, pedestrian entrances, and community gardens.
Mt. Nebo Park: "Connecting to the East Side"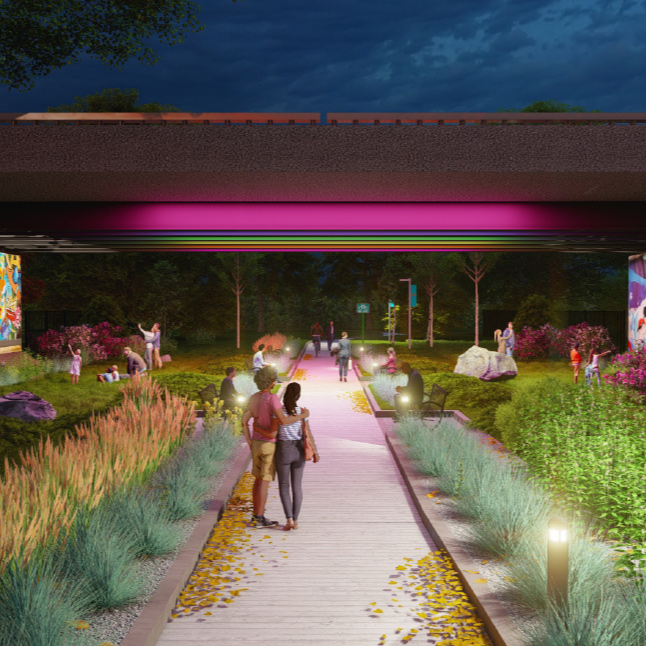 Home to Moriarty Baseball Field, Carlin Football/Soccer Field, and the Town's only dog park, Mt. Nebo is a community-based asset connected to Charter Oak Park and the East Coast Greenway to the north and Globe Hollow to the south. There is a strong desire to establish stronger connections to and from this park, with added amenities inside the park that encourage residents to stay and experience the park. Park-specific improvements identified in the concept plan include the realignment of the park entrance to match entrance to Globe Hollow and the addition of a raise crosswalk for safe pedestrian travel between parks. To create a stronger and more appealing connection to Charter Oak Park and the East Coast Greenway, the plan recommends the clearance of overgrown vegetation, add painted murals to underpass walls, and add lighting for safety and security measures. In addition, the plan suggests converting Carlin Field to a turf field and renovating Moriarty Baseball Field to the same standards of the premier baseball field at Northwest Park, providing higher quality amenities for players and fans.
Globe Hollow Swimming Area: "Modernizing Manchester's Aquatics Facilities"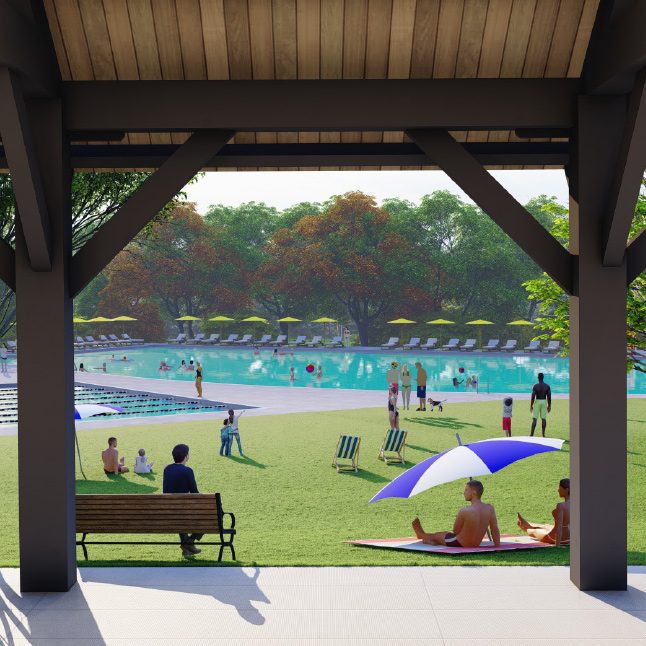 Globe Hollow is an iconic and historic aquatic facility, established after the Cheney Brothers constructed the Globe Hollow Reservoir, which flows into the swimming area. The grassy seating area shaded by trees and the reservoir water used for swimming makes Globe Hollow a unique amenity. The future vision of this park is to transform the outdated facility on the site into a multigenerational, accessible, full-service aquatic destination. Recommended improvements include the realignment and renovation of entrance and trails connecting Globe Hollow to Mt. Nebo and Camp Kennedy. The concept plan also includes the repurposing of the existing building for a new pool filter system and the construction of a full-service aquatic facility to include a zero-depth entry pool with lap lines, a family/kiddie pool, a sprayground, and a water slide. A new bathhouse, a large covered, open pavilion, and a picnic and sunning area will also allow for patrons to have an even more comfortable and enjoyable experience while at Globe Hollow.
Case Mountain Recreation Area: "Manchester's Regional Gem"
Case Mountain is a popular regional destination for hiking and mountain biking. The Town is fortunate to have such an amenity, and its popularity is reflected in the ETC survey results, with 64% of respondents saying they have previously enjoyed recreation activities on Case Mountain. Respondents also indicated
it should receive significant attention from the Town to ensure its usability and accessibility are held to a high standard. As a less developed park and a more natural area, there are several ongoing efforts to enhance the main trail system to maintain its status as a regional attraction. There will be a continual need to address the maintenance and upkeep of some of the historic features and heavily trafficked trails of Case Mountain. Some of the features that have been identified as unique and worth preserving include:
Historic carriage paths, stone structures, and dams
A trail network that connects to local and regional trail systems
Open space and wildlife habitat
Opportunities for regionally recognized premier mountain biking
Fishing opportunities
Educational opportunities to study a wide variety of ecosystems
In addition, a current concept plan under consideration is to remove the currently unsafe and inaccessible Case Cabin and replace it with an observation deck overlooking Case Pond. This change, along with other required alterations, provides an opportunity for new amenities to be added to Case Mountain. These potential additions, such as the creation of an educational pavilion and an observation deck, will embody a broader vision of Case Mountain as more of a recreational resource. For example, a new observation deck and a non-motorized boat launch would provide greater opportunity for more aquatic recreational activities.
Charter Oak Park: "Building on Success"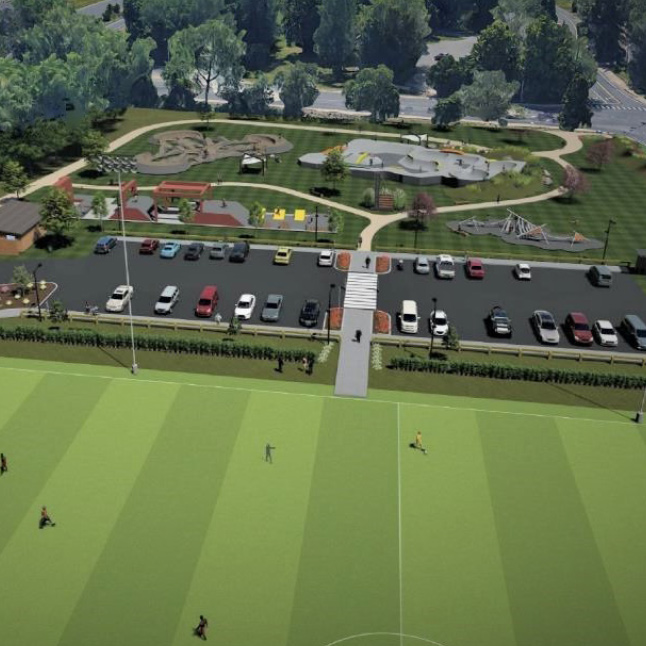 Results from the ETC survey indicate that Charter Oak Park is one of the most used parks in Town, with 56% of respondents saying
they have used it for recreation and 97% of those respondents indicating they were either satisfied or very satisfied with the park. These responses are a direct result of significant recent investments the Town has made in Charter Oak. In 2017, the Town completed roughly $2 million of improvements to the park, including new playgrounds, basketball and tennis courts, a revamped softball field, a "music garden," and newly paved parking lot and walkways. Additional upgrades including new bathrooms near the playing courts, an additional 22 parking spaces, a new two-way entry, a resurfaced bicycle path, improved lighting, and video cameras to monitor the park. The recommended improvements in the concept plan include maintaining Charter Oak Park to a high standard and placing a new skate park on the western edge of the park as it is accessible and in a more urban setting. The plan also suggests adding a pump track for BMX-style bikes and a warrior's obstacle course for users of all ages in this location as well. These improvements to the western edge also include a synthetic turf soccer field and adding bathrooms and drinking fountains.
For more detailed descriptions of these park-specific improvements identified in the concept plan and sketches of these plans, please see pages 201 to 238. Some parks and recreation areas are not included in this summary, such as Center Springs Park and Nike Site. These can be found in the complete Master Plan.
Plan Implementation and Conclusion
The final chapter of the Master Plan provides examples of funding and revenue strategies that could potentially be used to pay for these concept plans. Any concept plan with a vision for the future comes with a cost. However, there are several ways that a town like Manchester can fund plans such as a these without using taxpayer money. To view the list of funding recommendations and potential revenue sources please see page 241 of the Master Plan.
There are many ways that community members can participate in the Town's decision making on funding and the capital budgeting process. For example, there was a recent hearing on the art of funding on September 14, 2021 where community members can participate and be a part of the prioritization process.
In conclusion, the Master Plan's creation and suggested implementation has been shaped entirely by community engagement and expressed needs. The vision of the Master Plan is our vision of our future for our parks and facilities. Thanks to extensive community input and participation, the Master Plan is successfully complete. It is essential that this engagement continues as it will be an integral part of any of its implementation.