New Downtown Manchester Event will Activate Pedestrian Friendly Street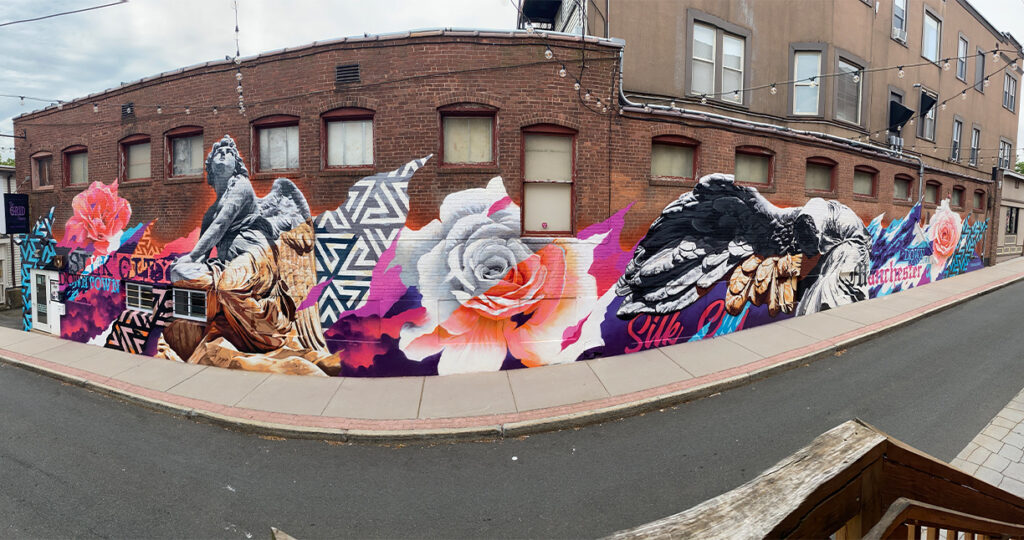 The Off-Main Experience (The Experience) is a new event coming to Purnell Place in Downtown Manchester on Thursdays throughout July from 5:00PM-8:00PM (July 8, July 15, July 22, July 29). The Off-Main Experience is a collaboration between two of Connecticut's placemaking experts, RiseUP for Arts and Blue Haus Group along with the Downtown Manchester Special Service District.
The Off-Main Experience will activate Purnell Place as a pedestrian friendly, open market with live music, permanent and temporary art installations, local small business vendors, and fun activities. A large-scale mural has already been completed and stretches the entire side-façade of a building along Purnell Place. The elaborate and detailed mural was completed by Ben Keller.
The Experience will activate multiple senses and create lasting memories of the event. By activating the visual senses through public art, filling the ears with live entertainment, making the taste buds jump and nostrils flair with food and drink options, and creating movement through the vendor market, Purnell Place will transform into a regional destination.
If you are a vendor, musician, or artist and would like to participate in the Experience, please email [email protected].
The Experience is funded by the Town of Manchester's Arts & Culture Mini-Grant.
About RiseUP:
The RiseUP Group is a nonprofit community development and creative agency with offices at WorkSpace in Downtown Manchester, office in Downtown Hartford, and at The District Co-Work in New Haven.
We have completed over 30 mural projects throughout Connecticut, we've worked with 20 local artists, 20 partners and hosted 500 plus volunteers to help paint our murals. RiseUP creates public art through donations, grants, and community goodwill.
We support artists, cities, other nonprofits, companies, and local community members in making their mural projects come to life. We help create the vision and manage the entire process to beautify communities through public art.
About Blue Haus Group:
Blue Haus Group is a private real estate and economic development firm with a focus on creating dynamic urban cores within secondary and tertiary markets. We specialize in the creation and redevelopment of public spaces, neighborhood streetscapes and pop-ups.
We work for real estate developers, government agencies, and non-profit organizations (and often a combination of the three) on revitalizing urban space and creating clean, safe, and active places that create value and stimulate economic development.