Anti-Racism in the Outdoors: Navigating a Not-So-Neutral Space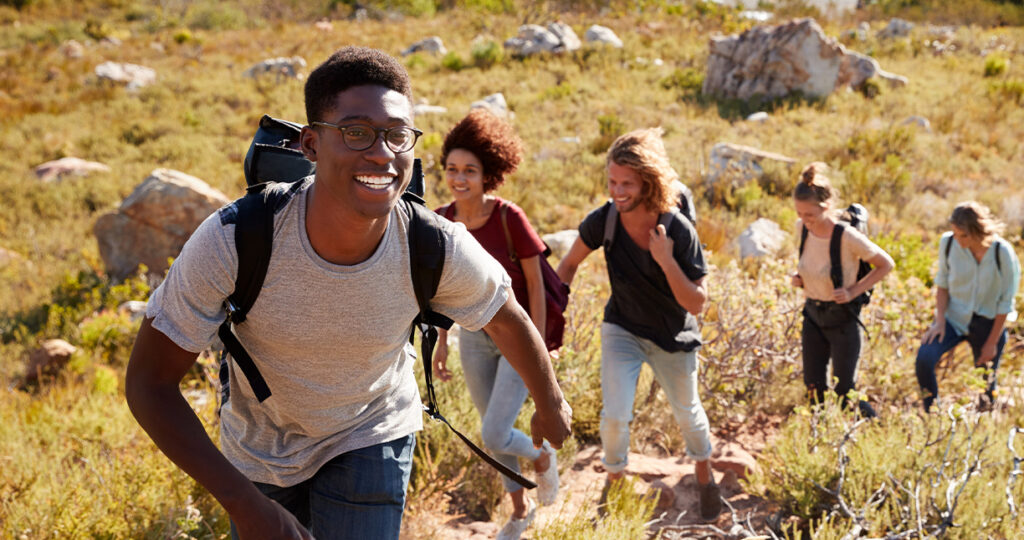 Warmer weather is on the horizon and with it comes the opportunity to get outside and take advantage of the fresh air. This past year during the pandemic in particular, people have been heading to the outdoors as a safe way to exercise and participate in fun activities with others. Some of these activities include hiking, camping, skiing, mountain biking, or climbing, which often take place in more remote, rural areas and mountain towns. As there is an increase in these outdoor activities, one important topic being left out of conversation is racism in the outdoor recreation industry. 
After the resurgence of the Black Lives Matter movement last summer, some outdoor activity organizations started recognizing the need to address racism as it directly relates to outdoor spaces. For example, the American Hiking Society stated that their mission will "never be fulfilled until systemic racism is erased and Black, Indigenous, and People of Color (BIPOC) are safe and welcome outside, have equitable access to quality natural spaces, and equitable employment and leadership opportunities in the outdoor industry."
The intersection of racism, policy, segregation, and access in the United States has historically led outdoor activities to systemically serve white communities, rather than BIPOC ones. According to the National Health Foundation, nearly 70 percent of people who visit "national forests, national wildlife refuges, and national parks are white, while Black people remain the most dramatically underrepresented group in these spaces." In mass media, Black people are more often represented as participating in fishing, communal park gatherings, or soccer games—activities that take place at a more local level and in more populated areas. But when it comes to representation in media showing outdoor recreation in more distant spaces, such as national parks, it is almost entirely white people. 
Why is this the case? The lack of accessibility stems from a history of legislation segregating and banning BIPOC from public outdoor spaces, like national and state parks, up until the 1960s and unofficially beyond then. This racist legislation is a part of the country's recent history and has allowed for white domination of these spaces. Despite the legal dissolution of these laws, there is still generational trauma among the Black community in particular when it comes to outdoor recreation in more isolated, rural, white communities. The thousands of lynchings that occurred from 1865 up until the 1950s, when not in a public downtown setting, often took place in outdoor spaces such as these, including forests, mountains, and other natural areas. 
When discussing racism in outdoor spaces, it is also absolutely essential to acknowledge the erasure of Indigenous communities from U.S. history and the emphasis of white ownership of outdoor lands. This white-washed history upholds the belief that outdoor spaces have always been dominated and owned by white people, when that is not the case. The natural spaces preserved for recreation and the outdoor activities historically serving the white community exist because of a history of genocide and land theft against Indigenous communities. 
It is important to learn about the history of the land used for recreation and why it is in fact not a neutral space where all can feel safe and welcome. However, the burden of this education should not fall on the shoulders of BIPOC. "10 Things I Wish My Outdoorsy White Friends Knew About Me" by Eugene Park paints a clear picture of how many BIPOC are "tired of code-switching and race-splaining, and also just tired in general."
Another useful article is "The Melanin Base Camp Guide to Outdoor Allyship" by Danielle Williams. If you're looking for ways to learn more, support BIPOC in outdoor spaces, and make a difference; this guide is incredibly helpful and provides several links to valuable external resources. Acknowledging privilege, gaining self-awareness, and being willing to take action for change is the place to start. This is something that can be done at the local level, as exemplified by the Ragged Mountain Foundation (RMF), whose mission is to promote safe and responsible recreational use of Connecticut's natural spaces, advocate for recreational access (including but not limited to climbing), and acquire and preserve areas of recreational and environmental importance. 
Paige Guthrie Cox, the Vice President on the Board of Directors of RMF, has emphasized the importance of directing people to the right organizations and amplifying the voices of people already doing great work to increase accessibility and support for people of color in outdoor recreation. Last summer, RMF released a statement stating that "the Board of Directors of the Ragged Mountain Foundation stand In Solidarity with the Black community and all who are fighting against racism and police brutality." This statement was followed by a post addressing the importance of anti-racism in the climbing community and demonstrating action the organization has been taking.
"It is unfinished work," Guthrie Cox said. "We should never be finished learning from our communities and adjusting to better serve them." RMF is currently developing a crag stewardship program which will offer mentorship and invite a more diverse membership into the climbing community. 
On a more personal level, Guthrie Cox noted that her greatest realization was that most of the content she was seeing on social or marketing media for outdoor recreation was whitewashed.
"So what I did was I shifted that. I changed who I followed on social media and the organizations I followed. I broadened the scope of what I see as a person in the outdoors," she said.
Some of the organizations she mentioned include:
While many of these organizations are at the national or international level many have regional or local chapters that members of the public can reach out to.
"To change how you see outdoor recreation, you need to change what you see," Guthrie Cox emphasized. RMF's goal is to not only to be advocates for their community and other non-profits in CT, but also to use their platform to amplify and lift up the voices of other organizations already out there that are led by and supporting people of color.
Another example of work being done locally is the comprehensive and educational resource guide titled "Anti-Racism in the Outdoors Resources." This guide was created by Don Rakow, Cornell University, and Laura Brown, University of Connecticut for faculty, staff, students, extension educators, outdoor advocates, volunteers and community leaders as allies of Black, indigenous, and people of color in the outdoors.
The "On the Trail" podcast, sponsored by the CT Trail Census and hosted by Neva Taylor also serves as a local resource for education on racism in the outdoors. Taylor is a UConn undergrad student double majoring in urban and community studies and sociology and is also the Communications Administrator with the UConn Extension CT Trail Census. The podcast tackles a variety of topics related to trails in Connecticut and addresses inclusion and accessibility in outdoor recreation.
"The biggest takeaway I have for people learning about anti-racism in the outdoors, is the power of feeling unwelcome or like the space does not belong to you like it does to others," she said. "I think that since most people are physically able to use outdoor spaces, some may think they are equally accessible to all, but they aren't. Representation can play a huge part in changing that narrative so it is all of our jobs to make trails feel welcoming to all."