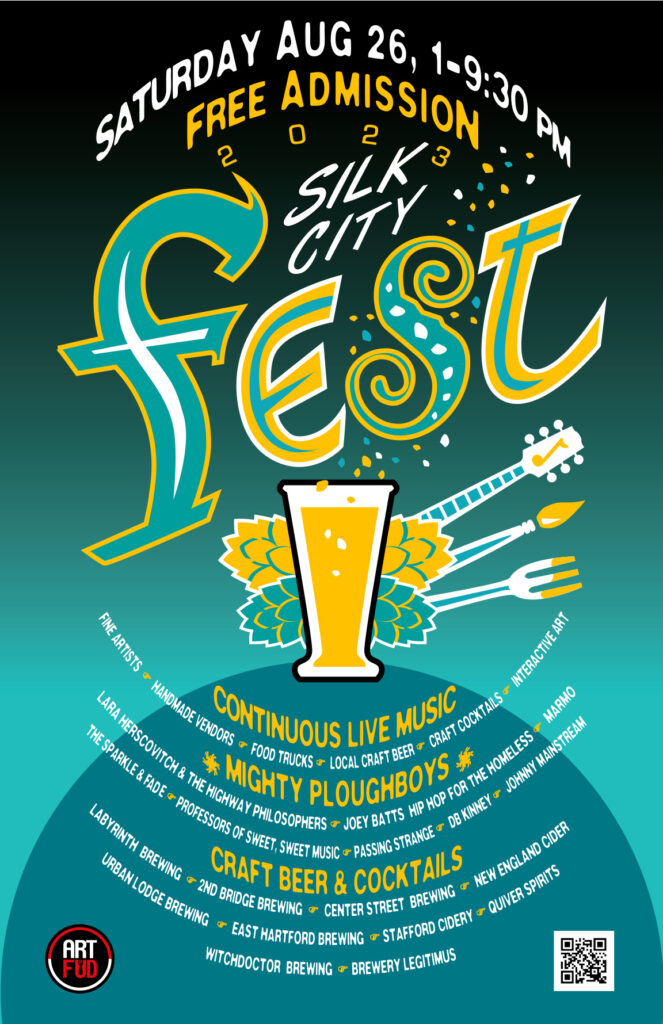 FREE ADMISSION! Organized by the non-profit Art Füd, this family friendly, community event – now in its sixth year – offers live music, a creative collection of artists and makers, local craft beer and cider, food vendors, interactive art, activities and games! There will be plenty of parking in the nearby lots, as well as on Main Street and various side streets. This fest goes on rain or shine. Event's approximate address for GPS directions: 12 Purnell Place, Manchester, CT 06040
Live Music All Day: Performers this year include DB Kinney, Joey Batts / Hip Hop for the Homeless, Johnny Mainstream, Lara Herscovitch & The Highway Philosophers, MARMO, Mighty Ploughboys, Passing Strange, Professors of Sweet Sweet Music, The Sparkle & Fade.
Local Craft Beer & More: Enjoy libations from 2nd Bridge Brewing, Brewery Legitimus, Center Street Brewing, East Hartford Brewing Group, Labyrinth Brewing, New England Cider, Stafford Cidery, Urban Lodge Brewing, Witch Doctor Brewing. And our Art Füd Craft Cocktails & Mocktails start in the evening hours.
The SCF Brew Experience: Enjoy a package that includes a commemorative SCF 2023 drinking vessel, 12 samples of your choice, and a discount on a pretty righteous festival t-shirt! Limited tickets available at www.artfud.org via eventbrite.
Vendor Village: Explore our village of local artists and makers offering a great variety of creative goods including ceramics, illustrations, graphic design, prints, mixed media, jewelry, fiber work, apparel, papercraft, candles, soaps, home decor, and more.
Interactive Art: Join in with a community art project for all!
Big Fun: Jenga, Connect Four, Cornhole, Labyrinth await those up for some fun and games.
Foodie Fare: This year's onsite nourishment is being provided by Bake Bake Hooray, Bobby T's Hotdogs, Keifer's Kettle Korn, Hungry Lion, Manchester Cheesecake Co, Skyscraper Sandwiches, The Comfort Zone Food Truck, and Thomas' Smokey Pit Stop. Still hungry? Additional fine fare can be found just a few steps away within the popular Main Street area restaurants.
Come out and enjoy all of this, and more, on August 26th! Bring the family, bring your friends, bring a chair…stay for a little, stay the whole day into evening.
Silk City Fest is made possible in part by a grant from the Town of Manchester's Downtown Arts and Culture Grant Program and is also generously supported by fantastic local businesses including Labyrinth Brewing Company, PhotoSynthesis, The Glastonbury Citizen, Tankworks, Birch Hill Tavern, K. Russo Photography, Clear/Cut Phocus, The Firestone Art Studio + Cafe.