Spruce Street Farmers Market: Love Your Local Market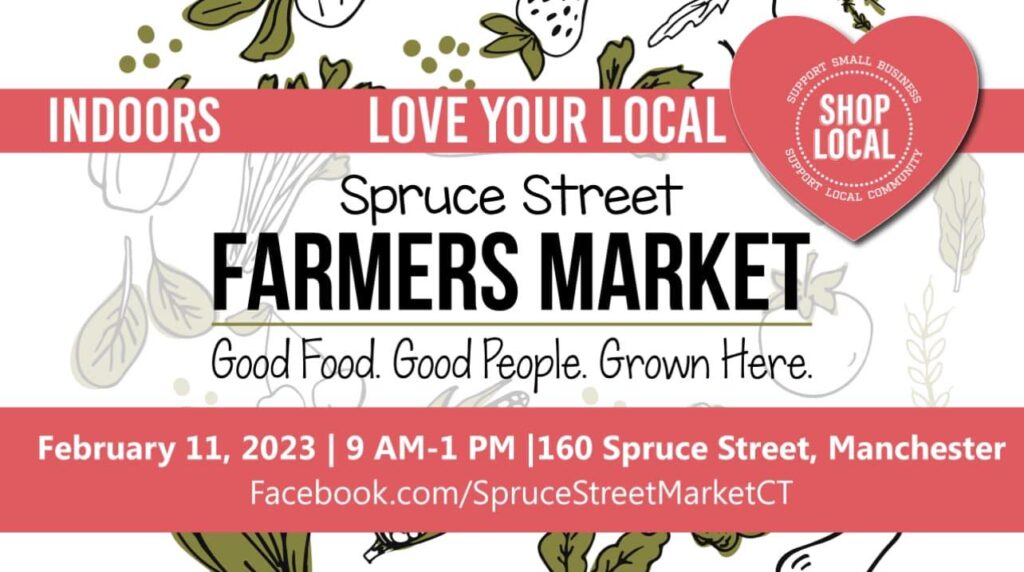 The Town of Manchester's Neighborhoods & Families Division will host their Spruce Street Farmers Market: Love Your Local Market on Saturday, February 11 from 9:00 AM – 1:00 PM at the Nathan Hale Activity Center, 160 Spruce Street.
With local vendors including farmers, prepared food vendors and artisans, the Love Your Local Market is the perfect place to support local small businesses and buy a gift for a loved one (or to even treat yourself)!
The Love Your Local Market is the final market of the 2022-2023 Spruce Street Farmers Market indoor season, which began with November's Shop Small Saturday Market & December's Indoor Holiday Market. The outdoor Spruce Street Farmers Market season will run every Wednesday from June 7 – August 30 from 4:30 PM – 7:30 PM at Market Field, 163 Spruce Street.
In addition to the market's slate of various local vendors, the Spruce Street Farmers Market also accepts SNAP/ETB and doubles up to $20.00 in SNAP benefits (spend $20.00 and receive an additional $20.00 to spend on SNAP-eligible items).
The current slate of vendors includes:
24 Peace (eco-fashion)
A Clay Zone (aromatherapy scented clay)
Allard Family Farm (pasture-raised poultry: whole, various cuts, organ meats)
A Sweet Affair (cupcakes, brownies, cookies, cake pops, Rice Krispie treats)
Black Cat White Dog Farm (microgreens)
Bob's Jerky For a Cause (beef jerky)
Candle Collaborative (soy wax CANdles with scents to match their branded cans)
Center Street Soap (handmade artisan soap, soap dishes)
Chef Kim Dishes and Spices (chef-blended spices, mixes, rubs, and blends)
Crafted to a T (pottery)
Deb's Designs (epoxy Lazy Susans, charcuterie boards, trays, small tables)
Ed's Walking Sticks (handcrafted walking sticks & wood crafts)
Fenner Forest Farm (fresh Blue Oyster, Chestnut, and Lion's mane mushrooms; dehydrated Blue Oyster, and Lion's Mane; smoked Blue Oyster mushroom salt)
Fernandes Farmstead (grass-fed beef, free range chicken eggs, honey, pasture raised pork)
Finn Rowan (live music)
Hippie Love (crystals)
Laurie Lynne's Jewelry (pendants, openers, stoppers, bookmarks, earrings, bracelets)
Manchester Cheesecake Company (4" personal size cheesecakes)
Manchester Early Learning Center (FREE children's Valentine craft)
Manch Ester Arts & Crafts (photo cards and gifts)
Miss Cutie Pie's Dog Treats (organic dog treats in six flavors)
Nyam Bakery (vegan cookies, traditional cakes, vegan cocobreads)
Oh Fudge and More (fudge, chocolates, caramel apples, cocoa bombs)
Ovelle Coffee Co. (Jamaican Blue Mountain hot coffee, ground coffee, gift baskets)
Pop's Famous Guac (handcrafted guacamole)
Soft Petalz (organic cosmetics, bath & body)
Square Peg Pizzeria (food truck breakfast and lunch pizzas – takeaway or bring inside to eat at our event)
The Ital Juicery Co. (handcrafted juices)
Wilkinson Farm (maple syrup, handcrafted gifts)


For more information, please contact Cynde Acanto at cacan[email protected]. For an up-to-date vendor roster, visit the Spruce Street Farmers Market Facebook page.