Spruce Street Farmers Market: Shop Small Saturday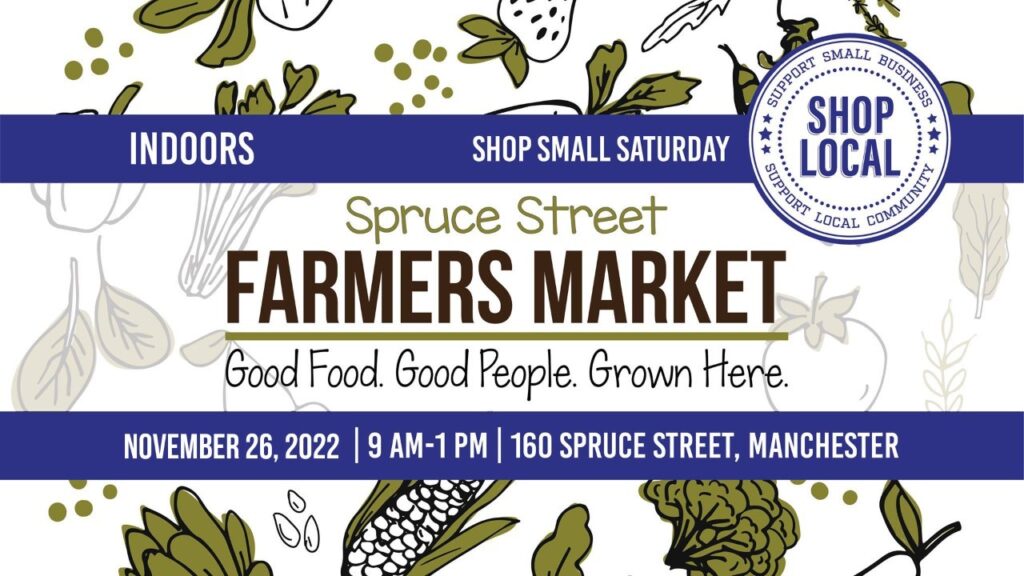 The Town of Manchester's Neighborhoods & Families Division will host their second annual Spruce Street Farmers Market: Shop Small Saturday Indoor Market on Saturday, November 26 from 9:00 AM – 1:00 PM at the Nathan Hale Activity Center, 160 Spruce Street.
With local vendors including farmers, prepared food vendors and artisans, Shop Small Saturday is the perfect day to support local businesses and get your holiday shopping started.
Shop Small Saturday was first observed in 2010, serving as a direct counterpart to holidays such as Black Friday and Cyber Monday, which highlight large nationwide corporations as opposed to local businesses. Shop Small Saturday hopes to encourage shoppers to support their local businesses, especially in the wake of the crippling impact that the COVID-19 pandemic had on many small businesses across the country.
In addition to the market's slate of various local vendors, the Spruce Street Farmers Market also accepts SNAP/ETB and doubles up to $20.00 in SNAP benefits (spend $20.00 and receive an additional $20.00).
The current slate of vendors includes:
24 Peace (Earth-friendly apparel)
A Clay Zone (aromatherapy clay)
Allard Family Farm (pasture-raised poultry)
Amazing Ackee (vegan Jamaican patties)
Beacon Craft Studio (leather goods & crafts)
Black Cat White Dog Farm (garden fresh microgreens)
Bob's Jerky for a Cause (beef jerky)
BOOK CLUB On the Go (books & bookish gifts, meet author Jessica Bottomley)
Crocheting by Tiffani (crocheted gifts and accessories)
Ed's Walking Sticks (handcrafted walking sticks)
Fernandes Farmstead (grass-fed beef, free range chicken eggs, honey, pasture-raised pork)
Finn Rowan (live music)
Gail Olmsted (multi-genre author)
Hippie (Love crystals)
ID by Deepika (upcycled clothing made from vintage fabrics)
K9 Kouture (dog bandanas, bow ties, and dog treats)
Manch Ester Arts & Crafts (photo cards and gifts)
Nyam Bakery (Jamaican specialty breads and sweets)
Ovelle Coffee Co. (Jamaican Blue Mountain coffee)
Pop's Famous Guac (handcrafted guacamole)
Soft Petalz (organic cosmetics, bath & body)
The Candle Collaborative (soy wax CANdles scented to match their can container)
The Ital Juicery Co. (handcrafted juices)
The Sault Shoppe (handmade jewelry & accessories)
Whimsical Olive Branch (infused olive oils)
Wilkinson Farm (maple syrup, handmade crafts)
Market Coordinator Cynde Acanto, now finishing her third year with the Neighborhoods & Families Division, looks forward to welcoming the local community back to the indoor market season at the Nathan Hale Activity Center.
"We're excited to celebrate Shop Small Saturday with our 2nd annual indoor market," Acanto said. "We love offering our CT small businesses another market to serve our customers. Our customers can start their holiday shopping, [all] while feeling good about shopping locally."
For more information, please contact Cynde Acanto at [email protected] For an up-to-date vendor roster, visit the Spruce Street Farmers Market Facebook page.