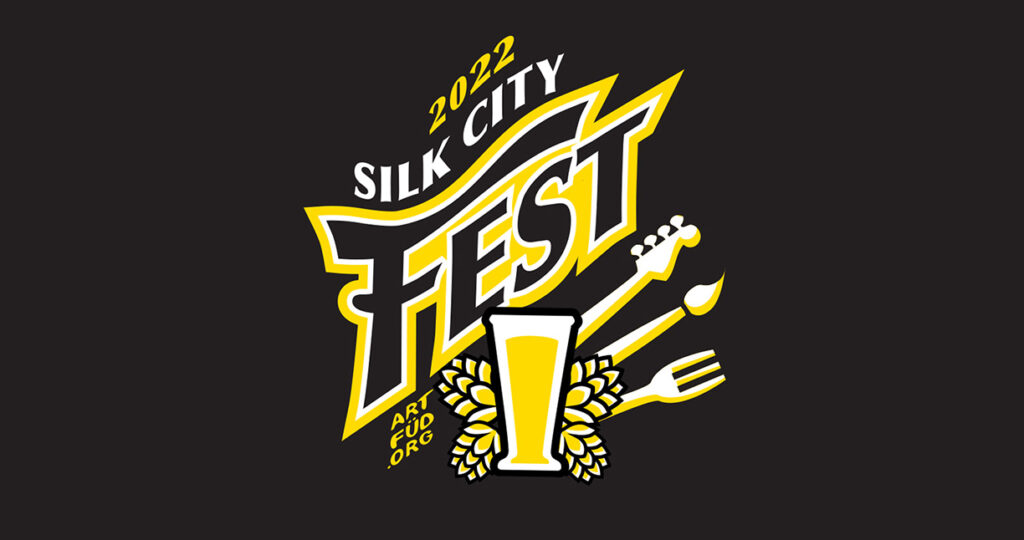 Saturday, August 27, 2022, from 1-10 pm at Purnell Place in downtown Manchester #silkcityfest
FREE ADMISSION! Organized by the non-profit Art Füd, this family-friendly, community event – now in its fifth year – offers live music, a creative collection of artists and makers, local craft beer and cider, food vendors, interactive art, activities, and games! There will be plenty of parking in the nearby lots, as well as on Main Street and various side streets. This fest goes on rain or shine. Event's approximate address for GPS directions: 12 Purnell Place, Manchester, CT 06040
Live Music All Day: Performers this year include After School Special, Audio Jane, Austin James & The Nomads, Chaser Eight, Evie Joy, FriendZ World Music, Ghost Tones, John Spignesi Band, MARMO, Pocket Vinyl, Someone You Can Xray.
Local Craft Beer & More: Starting at 2pm, enjoy libations from 2nd Bridge Brewing, Center Street Brewing, East Hartford Brewing Group, Firefly Hollow Brewing, Labyrinth Brewing, Luppoleto Brewing, New England Cider, Quiver Spirits, Urban Lodge Brewing, WeHa Brewing & Roasting, Yankee Cider. And our Art Füd Craft Cocktails start in the evening hours.
Introducing the SCF Brew Experience: NEW THIS YEAR! Enjoy a package that includes 10 four-ounce tastes starting at 1pm, a commemorative SCF 2022 drinking vessel, a one-hour headstart on the rest of the world, and a $3 discount on a pretty righteous festival tee! Limited tickets available at www.artfud.org.
Vendor Village: Explore our village of local artists and makers offering a great variety of creative goods including paintings, ceramics, illustrations, graphic design, prints, mixed media, woodcraft, jewelry, fiber work, apparel, papercraft, candles, soaps, home decor, and more.
Interactive Art: Be a part of the art by painting your own panel and adding it to our community mural highlighting Manchester's historic Case Mountain. 
Big Fun: Jenga, Connect Four, Cornhole, Labyrinth await those up for some fun and games.
Foodie Fare: This year's onsite nourishment is being provided by Bake Bake Hooray, Bobby T's Hotdogs, Center Scoop Ice Cream, Keifer's Kettle Korn, Manchester Cheesecake Co, Sambas Cuisine, The Comfort Zone Food Truck, The Rolling Roti and Thomas' Smokey Pit Stop. Still hungry? Additional fine fare can be found just a few steps away within the popular Main Street area restaurants.
Happenings @ WORK_SPACE: Located right next door to the fest, the galleries at WORK_SPACE will be open from 1 to 6 hosting a variety of indoor activities…CT Murals show, the Gallery Shop with goods from more local artists and makers, a visit from the Lutz Children's Museum (take a photo with Chuckles!), and kids activities.
Come out and enjoy all of this, and more, on August 27th! Bring the family, bring your friends, bring a chair…stay for a little, stay the whole day into the evening.
Silk City Fest is made possible by a grant from the Town of Manchester's Downtown Arts and Culture Grant Program.
Find a montage of last year's #silkcityfest below!