4th Annual Rotary in Motion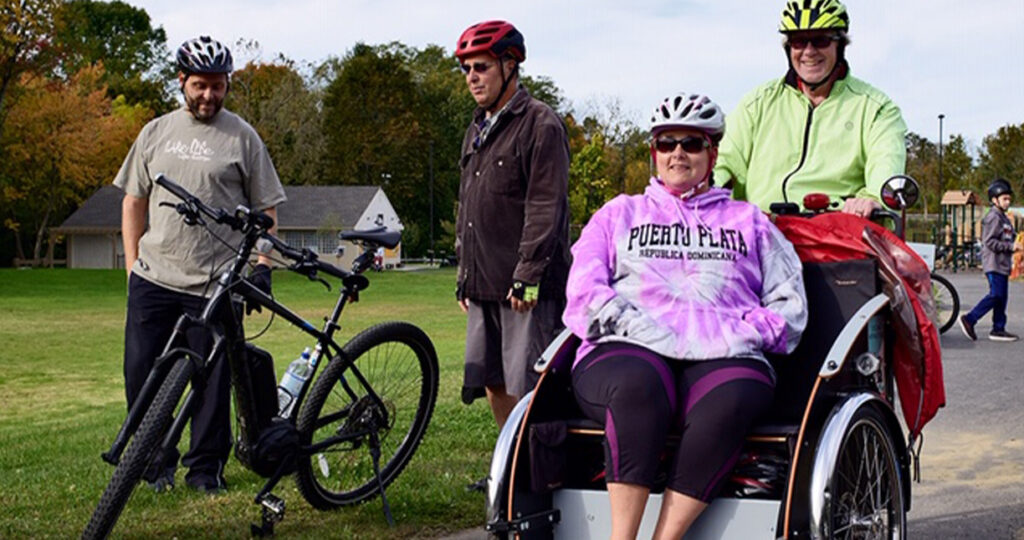 On Saturday. October 1, we will host the fourth annual, free, community-wide, Rotary in Motion celebration starting at Charter Oak Park at 9:30 am. The Dukes of Bourbon Street will again serenade with Dixieland during registration. Welcome remarks by Manchester Mayor Jay Moran and Mayor Mike Walsh of East Hartford will get things started. Then it's up to individual preference to choose from a variety of multi-modal activities featuring the 17-mile and 30-mile bike routes or the mountain bike option. Walkers can join Susan Barlow, Manchester Town Historian, on a 2-mile guided tour of the historic Cheney Mill district. Rickshaw and golf cart tours of Charter Oak Park will also be available. One can watch the Ebony Horsewomen start off on their equestrian ride up to Case Mountain.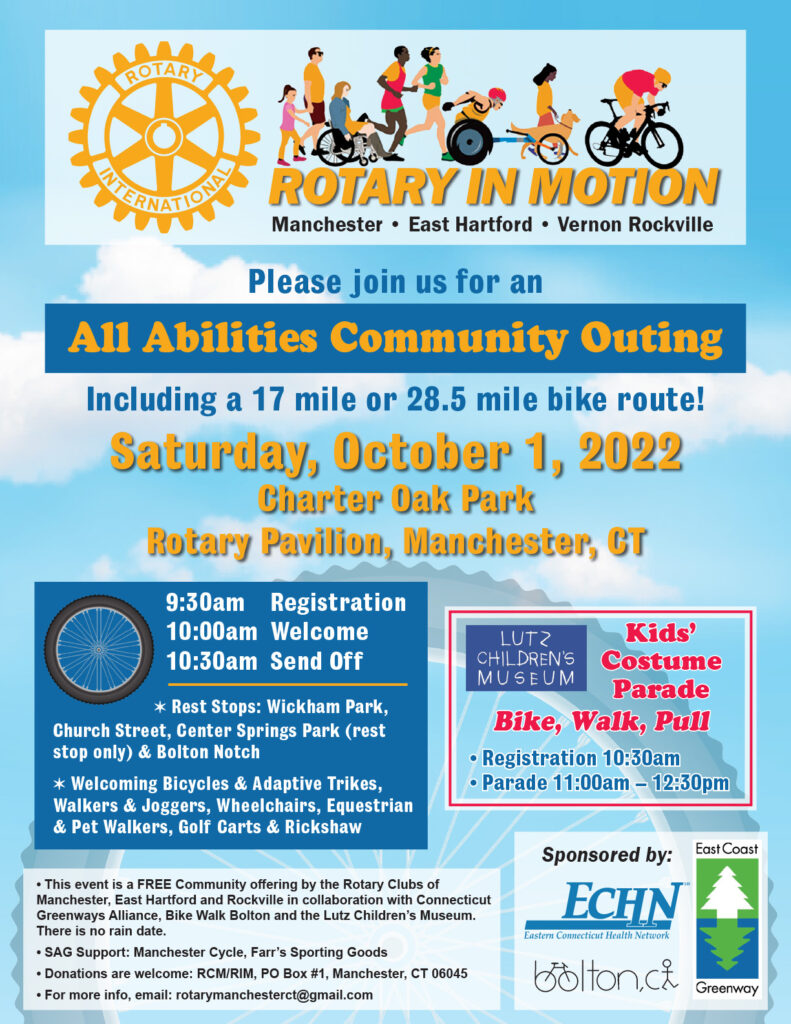 We are excited to welcome the Lutz Children's Museum to this year's RIM bringing a fun event for little kids and their families. Pat Buxton, Executive Director, and her staff have organized a Kid's Costume Parade through the Music Garden. This will feature interaction with the Lutz animals on a Push, Pull, Pedal course. Prizes for costume and bike decoration will be awarded along with Royal ice cream for all participants. Older kids and siblings (5+) can ride the East Coast Greenway Jr. route around Charter Oak Park before joining the Lutz parade.
The Manchester and East Hartford Police Departments will enhance safety along the bike routes. Manchester Cycle and Farr's Sporting Goods will provide SAG support for the cyclists. TiTrikes will again display their adaptive bikes with an opportunity for demo rides. Finally, stay for the ringing of the Rotary Bell as the cyclists return to Charter Oak Park.
The Rotary Clubs of Manchester, East Hartford, and Rockville in collaboration with Bike Walk Bolton and East Coast Greenways are excited to again bring this joyful experience to our community. We appreciate ECHN's continued sponsorship of RIM, helping to make this a true celebration of our wonderful parks and trails and the pursuit of a healthy lifestyle.