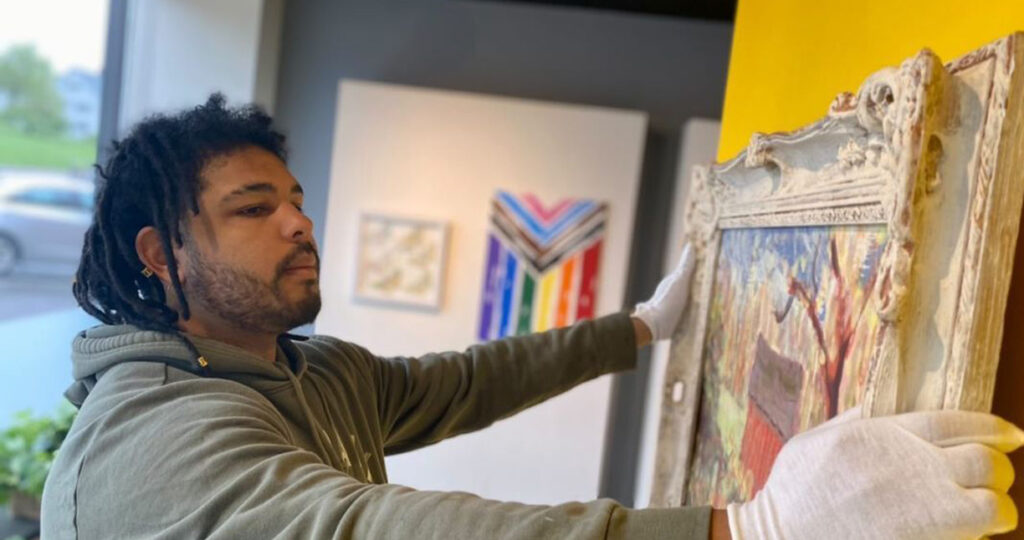 The Galleries at WORK_SPACE is a small local gallery with broad ambitious goals. Worthy of more than just a month, the ART OF PRIDE exhibit runs from May 6 – to June 30. The show includes 54 paintings, photography, collage, fiber, and multi–media work created by 23 artists from 18 cities in 3 states. The artwork and slate of companion programs not only reflect what LGBTQ+ pride and resilience mean to the artists and presenters, but it also encourages and sometimes challenges the audience to contemplate what it means to live an authentic and uncompromised self.

Exhibit Dates: May 6 – June 30, 2022

Opening Event: Friday, May 6 | 5–8pm

Weekday Hours: Monday – Friday | 10am–4pm

2nd Saturday Open Houses: Saturday, May 14 | 10am–2pm | Downtown Butterfly Stroll
Saturday, June 11 | 10am–2pm | Rainbow Pop–up Shop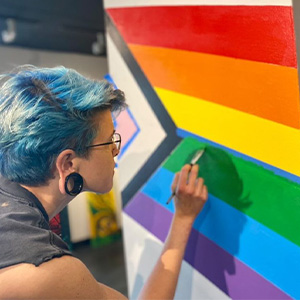 Producing any art show is a challenge, however, when selecting a complex theme and hosting it in a community space, it needs to be approached with expanded awareness and heightened sensitivity. "The power of art is as wide–ranging as the various artists and audiences that create and consume it," observes Dr. Stacey Zackin, Manager of WORK_SPACE. "Our team works hard to attract a diversity of people to both presents and experience the artwork and interactive programs. The intention of what an artist offers and the impression of what the observer receives might be different, yet there is a connection in that shared yet disparate experience which is simultaneously personal and universal. Our mission in both WORK_SPACE's Gallery and Coworking space is to create environments where it is not only ok but encouraged for divergent perspectives to be shared."
Guest Co–Curator, Jess Vaughn, has a passion for safe spaces. "Growing up as an LGBTQIAA+ youth in Enfield, CT, I realized early on that having safe spaces to express oneself authentically is paramount." Traé Brooks, who recently joined the WORK_SPACE staff after being an exhibiting artist, feels that "as human beings, we share the innate desire to be seen, heard and understood. This is especially true for those of us who feel the need to seek out or create open platforms to express our identity. I am honored to be part of this effort to provide artists space and opportunities to express themselves."
ART OF PRIDE presents a powerful opportunity to bring people together to share their stories in their own way while celebrating what LGBTQ+ pride and resilience look and feel like.
The ART OF PRIDE will be displayed in the Main Street & Loop Galleries. People are invited to view the art, peruse the Gallery Shop featuring handmade goods from local artisans, tour the co-working/meeting space where more art from local artists is on rotating display and participate in our programs (list below).

Visit WORK_SPACE weekdays from 10 AM-4 PM, every 2nd Saturday from 10 AM-2 PM or call to make alternate arrangements for individual and group viewings.

ART OF PRIDE Companion Programs:

Fri. May 6

–

5

-8 pm

 

Opening of Exhibit

Sat. May 14

–

2

-3 pm

 

"Laying It All Out" Roundtable Conversation w/ Artists & Dr

ag Performers

Wed. May 25

–

6:30

-8 pm

 

Rainbow Quilling Art Workshop

: Transforming Colorful Strips of Paper into Art

Wed. June 2

–

8

-9:30 am

 

CT Gay & Lesbian Chamber of Commerce Networking Breakfast

Fri. June 10

–

6

-8:30 pm

 

The Art

–

Blend Experience:

Poetr

y & Music Inspire the Live Creation of Artwork

Sat. June 11

–

10 am

-2 pm

 

Rainbow Pop

–

up Shop

: Local Vendors Selling Hand

–

Crafted Gifts

Sat. June 11

–

5

-7 pm

 

Drag Jamboree

: Saucy & Sensational Musical Performances & Interactive Games
Exhibiting Artists Include:
Adis Halilovic (Hartford), Andrew Armas (Burlington), Cairo Romaguera (Elmhurst, NY) Cherokee Cowherd (Hartford, CT), Emily Rahlwes (Manchester), Jaii Marc Renee (Manchester), Jess Vaughn (Enfield), Jordan Alexandre (South Windsor), Joseph R. Gorneault Jr. (Cromwell), Joy Monroe (Bloomfield), Joyce Armentano (Glastonbury), Lari Freeman (Waterbury), Marissa Pasternak (Manchester), Michaela Ranniello (Wethersfield), Osiris Phoenix (Windsor), Pip Doya (Bridgeport), Rachel Hamilton (Avon), Rich Faucher (Southington), Rose Fisher (Enfield), Serena Phu (Cromwell), Tristan Griffin (Milford), Vic Mendelson (Providence, RI), Jean Marie Sanchez (Hamden).

Upcoming exhibits and events: http://workspacemanchester.com/events–programs/
Past, current and future exhibits: http://workspacemanchester.com/art–culture/