Nate Agostinelli Veterans Memorial Park Dedication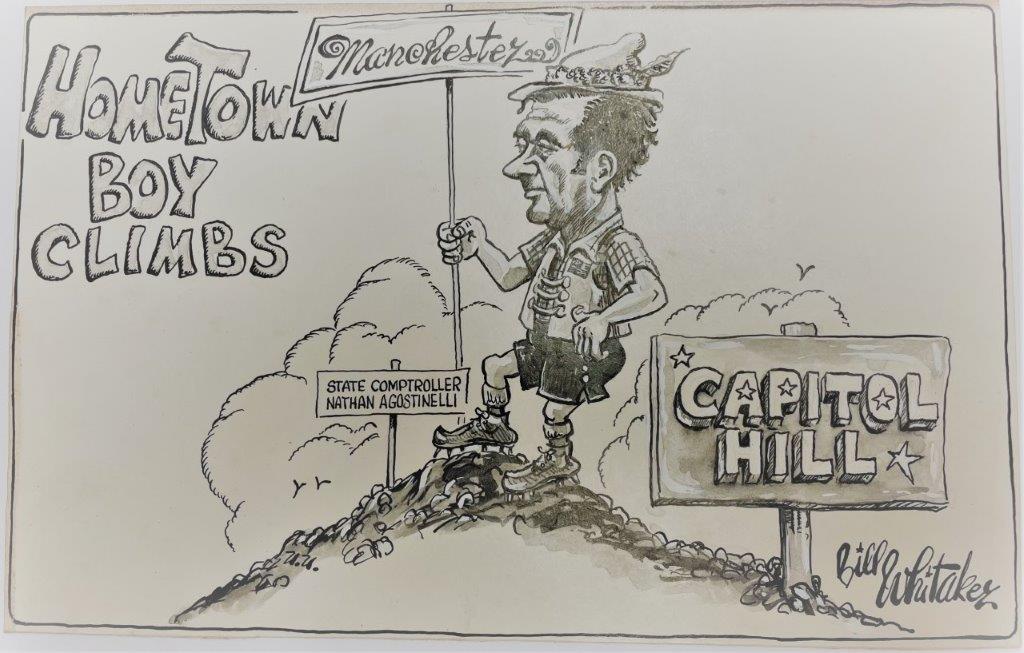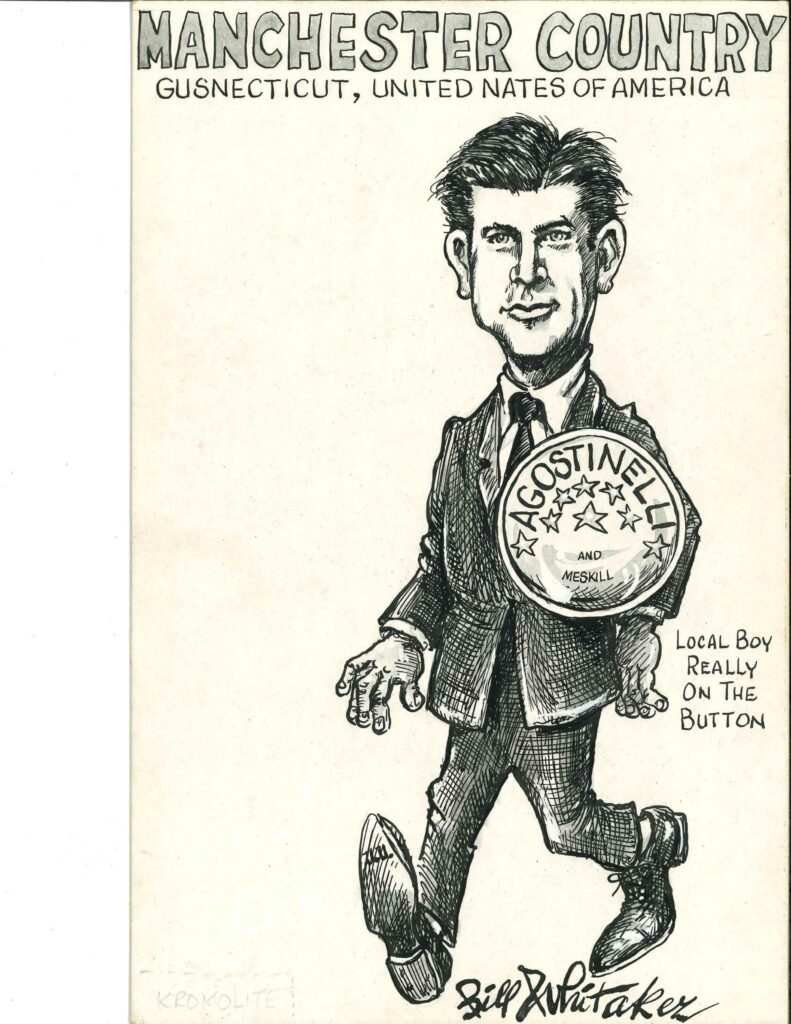 Political cartoons depicting Nate Agostinelli, illustrated by Bill Whitaker of the Manchester Herald
Nate Agostinelli, as a Manchester resident and former mayor, has been an essential member of the Manchester community who has made several contributions to the Town throughout his lifetime. Known as a "yes man" whose determination, hard work, and generosity shaped those around him, Nate Agostinelli stands as a source of inspiration both locally and beyond.
A commemoration will be held on Wednesday, November 10, 2021, at 11 AM to celebrate Agostinelli and to rename Munro Park to the Nate Agostinelli Veterans Memorial Park. Munro Park is located at the intersection of Porter and East Center Street.
As a graduate of Manchester High School and a student at Hillyer College in Hartford and the University of Connecticut, Agostinelli has been a long-time member of the Manchester community and surrounding region.
Agostinelli served in the United States Army during the Korean Conflict as well as in the US Army Reserve and Connecticut Army National Guard, where he reached the rank of brigadier general. He was also appointed by the Secretary of the Army to be a civilian aide to the secretary representing Connecticut and director of selective service for the state under President Clinton.
In addition, Agostinelli has contributed to the development of Manchester through his career experience as President of Manchester State Bank and is the only Manchester resident elected to state office, having served as state comptroller.
He is also affiliated with a broad range of local organizations in addition to a variety of local schools, churches, veterans' associations, banking associations, and government initiatives. Agostinelli, a son of Italian immigrants, is also involved with Unico, an Italian-American service organization, and the Army & Navy Club. His contributions also extend beyond local associations to include a range of service at the state level. Agostinelli has also received over twenty awards for service in both military and civilian spheres, including a Presidential Commendation and the Outstanding Civilian Service Medal presented by the Secretary of the Army.
Nate Agostinelli has held many titles––brigadier general, mayor, bank president, state comptroller––but above all else, he is known as a man with a big heart who always volunteers with the usual quip, "I'll do it," and who has given over 60 years of service to both his country and his community. Known for his integrity, great character, and continuous service, the Nate Agostinelli Veterans Park stands as a fitting honor.